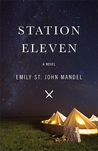 See all 12 books that Eric is reading…
"We've already established whoever is writing us is an asshole. This sounds like just the sort of thing an asshole writer would do."
―
John Scalzi
,
Redshirts
The Incomparable Book Club
— 993 members — last activity 9 hours, 40 min ago
The Book Club of the podcast "The Incomparable." Jason Snell talks about geeky pop culture with a rotating panel of regular guests! http://www.theinco
...more
Infinity Interactive
— 8 members — last activity Nov 05, 2014 07:51AM
Virtual library of Iinteractive.