Fables&Wren
said:
" WrensReads Review:

"I have been made to protect you. Only in death will I be kept from this oath."

I want to get one thing straight here: Bardugo has single handedly become on of the best young adult, fantasy authors of our generation.




If you don't agr ...more "
progress:
(page 206 of 465)
"I can feel this story picking up and the ships sailing for a few people... this is going to be a bumpy ride, isn't it? lol smh. What did I get myself into?"
—
Sep 21, 2016 11:58AM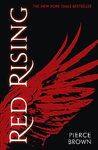 See all 8 books that Fables&Wren is reading…
in this area the less specific and the less open we are, the more and more at risk we're putting these kids—especially girls."
The Cheerful Wednesdays
— 26 members — last activity May 16, 2018 08:41PM
Cheerful Wednesday /ˈCHirfəl ˈWenzdā/ noun - 01. a person who is a walking oxymoron 02. someone happy but clouded in black clothing 03. someone witty
...more