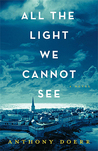 progress:
(page 159 of 445)
"It's still slow going, but having read much of Umberto Eco's work, that isn't surprising. Similar to how Foucoult's Pendulum is bogged down in heavy philosophy, A Prague Cemetery is thus bogged down in history. But I'm hoping for a similar, awe-inspiring pay-off one typically finds in Eco's tales. I will get there eventually..."
—
Jan 30, 2015 07:00AM
Southern California Events
— 511 members — last activity Apr 21, 2018 10:20AM
This groups is designed for Southern California Goodreads members to get information about local events such as Book Swaps.