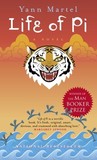 "The distance that wedged itself between me and my happiness wasn't the world, it wasn't the bombs and burning buildings, it was me, my thinking, the cancer of never letting go, is ignorance bliss, I don't know, but it's so painful to think, and tell me, what did thinking ever do for me, to what great place did thinking ever bring me? I think and think and think, I've thought myself out of happiness one million times, but never once into it."
Jonathan Safran Foer

"

It was really good and creative! Though at some point, more than once actually, it got kinda boring.

"
More of Hind's books…
Saudi Readers Club
— 137 members — last activity Dec 13, 2008 10:09AM
This club for all people who love to read and live in the Kingdom of Saudi Arabia.
52 Books in 52 Weeks (2011)
— 382 members — last activity Mar 05, 2012 02:53AM
Challenge will start on the 1st of January, 2011. Reading 52 books in 2011! :D 1- Everyone MUST write a review, or their opinion of the book, after ra
...more
تبادل الكتب بالسعودية
— 1036 members — last activity Oct 15, 2018 08:29AM
لتبادل الكتب والبيع والشراء والهبة