Jenna
Sign in to Goodreads to learn more about Jenna.
https://www.goodreads.com/Ozgal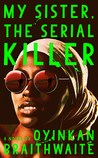 what endures is what has always mattered: love—that we love one another as surely as we are alive.
Apocalypse Whenever
— 12253 members — last activity 17 minutes ago
The most active Goodreads group for apocalyptic, post-apocalyptic and dystopic fiction! Join the monthly book reading, get recommendations, or just te
...more
AfterEllen.com Book Club
— 1118 members — last activity May 03, 2016 03:13PM
The book club that plays for your team.
Future Survivors, the Apocalypse Group
— 4035 members — last activity Apr 11, 2019 12:06AM
For readers and writers of apocalyptic, post-apocalyptic, or dystopian novels, and fans of the dystopian genre of movies. NOTICE: This group recently
...more