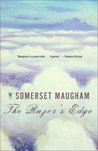 "
Stories are important,
the monster said.
They can be more important than anything. If they carry the truth.
"
―
Patrick Ness
,
A Monster Calls
Emily's 2017 Year in Books
Take a look at Emily's Year in Books. The good, the bad, the long, the short—it's all here.
Emily hasn't connected with her friends on Goodreads, yet.
Polls voted on by Emily
Lists liked by Emily