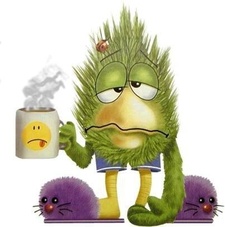 progress:
(3%)
"It's so eerie sometimes, you read a book from the 90s and there it is, the PERFECT quote for what is going on TODAY - and it's from 1848!



For you English-speakers:
Epidemics are like giant danger signs on which the statesman can read clearly that his people's development is disrupted in a way that not even careless politics may ignore."
—
Aug 10, 2020 04:39AM
progress:
(71%)
"Patrick Stewart treated us to a double-feature today (You'll see why below): Sonnets 89 and 90.


"
—
Jul 23, 2020 12:16AM
See all 5 books that Trish is reading…
SpecFic Buddy Reads
— 100 members — last activity 2 hours, 4 min ago
We want to read fun stuff as a group and do lots of buddy reads on the side. And we like to chat a bit, too. Friends don't let friends read alone:)
...more
Ilona Andrews Addicts (IAA™)
— 1085 members — last activity Aug 11, 2020 04:07PM
Everything Ilona Andrews. Because Ilona Andrews is awesome. And because one day Ilona Andrews will rule the world. Newbies! Please take a moment to i
...more