See all 6 books that *TANYA* is reading…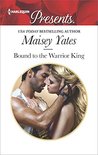 "I am a man of the sword," he said slowly, the grave intent in his words drawing her focus upward. "And I now pledge this blade to you. I will empty my veins before I allow one drop of your blood to be spilled. You are one of mine now, as
...more
"

Great review. I can't wait to read this book. It's on my tbr list, I'm soooo looking forward to it!! 😜

"

"Lucy Lennox, the author that gave us the Marian brothers, has a new set of brothers for us! This is the Wilde family and the first book focuses on hot doctor Weston Wilde.

If you've read the books in the Made Marian series, you know that they are..." Read more of this review »

"
Loved Nico. Loved West. Loved Grandpa, Doc and the entire Wilde family.



But this 328 pager felt *way* longer than it needed to be. By like 100 pages.

One of my favorite things about stories like this, where someone overcomes great adversity and buil..." Read more of this review »




"This is the second book this year where the ending makes the book. I wasn't sure about Stay with Me in the middle of reading, but by the end I loved it again. "

"

Yun, I agree. I haven't really liked the last couple of books she's written however I really enjoyed this one. Happy reading Yun!! ☺

...more

"
More of *TANYA*'s books…

"I carry your heart with me (I carry it in my heart)I am never without it (anywhere
I go you go,my dear; and whatever is done by only me is your doing,my darling)
I fear no fate (for you are my fate,my sweet)I want no world (for beautiful you are my world,my true)
and it's you are whatever a moon has always meant and whatever a sun will always sing is you

here is the deepest secret nobody knows
(here is the root of the root and the bud of the bud and the sky of the sky of a tree called life; which grows
higher than the soul can hope or mind can hide)
and this is the wonder that's keeping the stars apart

I carry your heart (I carry it in my heart)"
―