Cristina
Sign in to Goodreads to learn more about Cristina.
https://www.goodreads.com/Fantasma713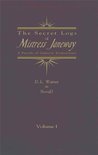 See all 4 books that Cristina is reading…
Another lovely installment to the world of the Edgers. There was action, laughs, romance, and it was delicious. I look forward to the next adventure!

What can I say other than I really liked it! The action, the characters, the quips and dialogue, it is such a rich but hidden world that I loved visiting. Might even be loving that grotesque, too.

And I definitely want a Bricksley.
More of Cristina's books…