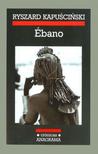 See all 6 books that Ignacio is reading…
"Quería leer este cómic desde hacía mucho tiempo porque, en fin, Neil Gaiman, Marvel, ¡Doctor Strange! No me resultó fácil encontrarlo: en español está descatalogado y en inglés no es que sea barato, pero al fin lo conseguí. ¡Y me ha gustado mucho!..." Read more of this review »

Bastante curioso, aunque a veces se pierde demasiado en chascarrillos y episodios de CSI, pero he aprendido bastante de un tema del que desconocía todo por completo.

Desde un punto de vista argumental y narrativo, está, en mi opinión muy por debajo de la Ilíada, sin embargo, es un placer seguir escuchando la voz de Homero 3000 años después. Además lo he terminado leyéndolo mientras viajaba en barco, asi que creo

...more

"Una tomadura de pelo en toda regla. Personajes sin fondo, tramas y situaciones absurdas. Giros de acontecimientos que se ven venir y aburren. Le pongo una estrella por el que ha tenido que leer y traducir semejante disparate."

"

Yo de este señor me leí el primero (la verdad sobre el caso Harry Quebert) y dije nunca más...

"
More of Ignacio's books…