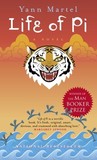 There are already some excellent synopses of the plot of the book on here: I won't add to them.
For my two cents on why this book is so powerful, I believe this is firstly because the time of life which the author chooses to portray - there can't be ...more

"

I agree that the whole book has an ethereal quality like being pleasantly drunk and then having to deal with something serious or sobering - but then

...more

"

"

I really agreed with most of your review Martine. I didn't think that Richard was unbelievable as a male narrator however: in fact I felt the opposite

...more

"
More of Alchemist's books…
Alchemist's 2017 Year in Books
Take a look at Alchemist's Year in Books. The good, the bad, the long, the short—it's all here.
Alchemist hasn't connected with their friends on Goodreads, yet.
Polls voted on by Alchemist
Lists liked by Alchemist