The Dilemma
by
B.A. Paris, my Queen.
Although very different from her prior works, I still really enjoyed this. Smaller in scope, yet quite intricate as a character study.
Following husband and wife, Livia and Adam, this story takes place during the course of a single day. The day of Livia's much anticipated 40th birthday party.
Adam and Livia were married very young and never had the chance to have the wedding of her dreams.
She has always looked on this party as an opportunity to celebrate not just her birthday, but also their relationship.
As the day arrives Livia is dragged down by a monumental secret she is keeping from her husband.
Unfortunately, she's not the only one with a secret. Adam has a life-changing secret as well that he is choosing to keep from her.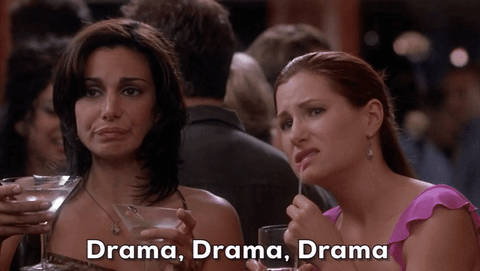 The narrative alternates between the two as they struggle with their decisions to keep such important facts from one another.
While very introspective in a lot of ways, there is still quite a bit of suspense.
Over the course of the story, the reader learns the true nature of their respective secrets and what those could mean for the family as a whole.
As I mentioned above, this novel seemed smaller in scope compared to her previous novels. By that I mean, all of the action takes place at their home during the course of one day.
Her previous novels certainly covered larger geographical areas, as well as longer spans of time, making the stories seem more complex.
However, I think after you complete this one, and you sit back and think about what you have read, the real intricacies begin to come to light.
I cried reading this. The characters go through so much, it really moved me.
Although I would classify this as more domestic drama than psychological thriller, which is what I would classify her earlier novels, I appreciated it very much.
Her writing style is just so compelling and never fails to keep me glued to the pages.
B.A. Paris has a fan in me for life. I will always pick up every single thing she has published.
Thank you so much to the publisher, St. Martin's Press, for providing me with a copy of this to read and review.
This was absolutely one of my most anticipated releases of the year and it did not disappoint.
Sign into Goodreads to see if any of your friends have read The Dilemma.
Sign In »
Reading Progress
March 5, 2019 – Shelved as:
to-read
January 10, 2020 –
Started Reading
January 10, 2020 –
10.0%
"Off to a fun start! Not surprisingly!"
January 20, 2020 –
24.0%
"Sure. It's a little weird this lady is so obsessed with her own 40th birthday party, but honestly, I have known people obsessed with a lot stranger things, right?


"
January 22, 2020 –
34.0%
"A lot of puzzle pieces starting to fall in place...

🔎🔎🔎🔎🔎🔎🔎"
January 28, 2020 –
44.0%
"Intensity is definitely picking up! 🖤"
February 2, 2020 –
53.0%
"How is this whole series of events even happening!?!?

What a sh*tshow!"
February 6, 2020 –
Finished Reading
Showing 1-10 of 10
(10 new)
date
newest »
back to top