The Getaway God (Sandman Slim, #6)
by
✘✘ Sarah ✘✘ (former Nefarious Breeder of Murderous Crustaceans)
's review
bookshelves:
favourite-series
,
urban-fantasy
,
demons-are-yummy
,
angels-are-assholes
,
poof-gone-harem
,
darker-is-cooler
,
gloriously-fucked-up-characters
,
assholes-and-liars-everywhere-yay
,
2017
,
absolute-favourites
,
blood-and-gore-and-violence-oh-my
,
cool-kick-ass-chicks-harem
,
uf-with-male-lead
,
wondrous-mr-kadrey
💥
May 15, 2019:
only
$1.99
today!!!
Actual rating: 8 stars
.
Because this is kinda sorta the best instalment in this series so far and stuff.
Okay, people, we need to talk
. Why the bloody fish are you still NOT reading this series
(view spoiler)
[ shame on you shame on you shame on you shame on you (hide spoiler)]
? I know this is
only the best freaking UF series with a male lead ever
(with my boyfriend Daniel Faust, of course), but still. I do not give a flying shrimp if you have
too many books
to read as it is, if your
pet barnacle ate your homework
, or if you have a ridiculous crush on
silly Harry Happy Dresden
(the wimp wouldn't last one quarter of a millisecond in my boyfriend Sandman Slim's world, just so you know)! I've had it with your
preposterous excuses
! So either you start reading this series by the end of the
year
month
week
day, or I'm unleashing the murderous crustaceans on you!
Oops, looks like you're all dead
. How frightfully regrettable for you stuff. Yay for me, though. Because it means that I can now
wantonly smooch
my boyfriend 24/7 without having to worry about one of you
People of Despicable Book Taste
(PoDBT™) trying to snatch him away from me and stuff.
Such a hot threesome
we make, my Jimmy Stark, his beloved Maledictions
(view spoiler)
[ what now? You don't know what Maledictions are? Seriously? *smh and stuff* They're Jimmy's Hell-made cigarettes, you Clueless Barnacled Bunch! "Tastes like a tire fire in a candy factory next door to a strip club?" Rings a bell? No? Okay, I give up. (hide spoiler)]
and my super sexy orangey self.
It's beautiful
. But I ever so slightly digress.
Since you're still NOT reading this series
(view spoiler)
[ shame on you shame on you shame on you shame on you (hide spoiler)]
despite my relentless
fangirling
enthusiasm, I think a little
rehashing
refresher course
is in order here. So. This series is gloriously
dark
, this series is beautifully
fished up
. This series is overpopulated with
deliciously shrimped up characters
who are most splendidly lacking in the moral compass department. Also, this series is
violence, blood, horror, gore, spilled innards, severed limbs, the works, YUM
. Also,
also
, this series is brilliant
literary and cinema references
heaven. Also,
also
,
also
this series is
HA HA bloody HA
. Damn, there's so much scrumptious stuff here, someone should
try and make a series of this
or something. Oh, wait, I think someone already did. Bloody shrimping hell,
what a glorious idea
!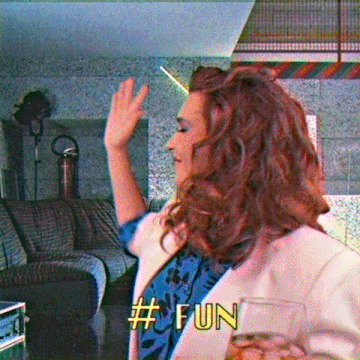 Rehashing Recap Express Summarization Time
(RRESCT™): this series is slightly orgasmic. Despite being written in
First Person Present Tense of Doom
(FPPToD™). So
QED and stuff
read this now or die dead via serrated pincers and stuff. You are quite welcome.
Moving on
.
Okay
, so my boyfriend was kinda sorta feeling
under the weather
in the last instalment. He was getting all
reasonable
and almost
nice
and stuff, which was pretty disgusting and
made my exoskeleton shudder
more than once as I was reading the book.
Extreme measures
were in order, so I had Jimmy summoned to Fleet Admiral DaShrimp's office,
speedy chastening
ensued and tada! We're back in
Jimmy's an Irreverently Ruthless Smartass with a Bad Attitude Land
(JaIRSwaBAL™)! Pure bliss and stuff. And I have to say that Jimmy got his groove back just in time to save the world from a bunch of ancient, pissed off, a little vengeful,
slightly deranged gods
.
"Wisdom comes from knowledge. Knowledge begins with theories." "I don't want wisdom. I want a bazooka."
That's my boy
!
A good thing
the Admiral's tender loving care got Jimmy back in tip-top shape, too. Because what with Heaven and
Hell
Downtown being
spoiler spoiler spoiler
, a
meat Notre Dame
(don't ask), a slightly aggravating, sanctimonious
400-hundred years old Japanese mummy
who keeps calling my boyfriend "fatty" (the nerve! Admiral, unleash the shrimps!),
human chop shops
, one big happy (if slightly dysfunctional) godly family, a
somewhat psychotic serial killer
,
blood
torrential rain, the spoiler spoiler spoiler predicament,
suicidal hellions
,
a 747 having rough sex with a skyscraper on a pile of exploding transformers
(don't ask) and getting successively
crushed, tossed around, beaten and shot at
, my Jimmy is going to need all his gloriously blasphemous, shameless stamina (yes, that is a thing) if he wants to
survive this instalment
and then enjoy a well-deserved subaquatic holiday
in my most delectable company
.
Yes
, I think a relaxing, restful stay at the
Murderous Crab Inn
is definitely in order here. For both Jimmy and me. Because the book kinda sorta ended like…oh bloody hell
shocker
! Oh bloody hell
plot twist
!
Oh bloody hell bloody hell bloody hell bloody hell
!!!!!!
HALP
!
» And the moral of this
Bloody Shrimping Hell My Little Barnacles I know My Reviews Are Super Crappy and Stuff but do your Little Arthropodic Selves a Favor and Bloody Shrimping Read this Series Already Crappy Non Review
(BSHMLBIKMRASCaSbDYLASaFaBSRtSACNR™) is: Jimmy Baby, when you're done saving the
undeserving puny humans
for the umpteenth time, please feel free to
come and save me
and stuff. Thank thee kindly.
P.S.
Sandman Slim, you are
slightly hot
.
P.P.S.
Sandman Slim, you are
slightly MINE
.
·
Book 1
:
Sandman Slim
★★★★★
·
Book 2
:
Kill the Dead
★★★★★
·
Book 3
:
Aloha from Hell
★★★★
·
Book 3.5
:
Devil in the Dollhouse
★★★★★
·
Book 4
:
Devil Said Bang
★★★★
·
Book 5
:
Kill City Blues
★★★★
·
Book 7
:
Killing Pretty
★★★★
·
Book 8
:
The Perdition Score
★★★★★
·
Book 9
:
The Kill Society
★★★★★
·
Book 10
:
Hollywood Dead
★★★★★
[
Pre-review nonsense
]
There's a slight chance
this might be the
best bloody shrimping instalment
in my boyfriend Jimmy Stark's deliciously dark and twisted adventures. Maybe. I mean, what with
pissed-off ancient gods
, spoiler spoiler spoiler, an
aggravatingly self-righteous Japanese mummy
, spoiler spoiler spoiler,
human chop shops
and spoiler spoiler spoiler, I do think
this one could be NOT the crappiest book
in this series. Possibly. Also, my boyfriend is
slightly hot
.
Super sexy, super badass and super mine. That's my Sandman Slim alright!
➽ Full
I am So in Lurve with this Beautifully Fished-Up World and the Bastard Who Keeps Saving It that I Might Sacrifice a Few Puny Humans to Celebrate and Stuff Crappy Non Review
(IaSiLwtBFUWatBWKSitIMSaFPHtCaSCNR™) to come.["br"]>["br"]>["br"]>["br"]>["br"]>["br"]>["br"]>["br"]>["br"]>["br"]>["br"]>["br"]>["br"]>["br"]>["br"]>["br"]>["br"]>["br"]>["br"]>["br"]>["br"]>["br"]>["br"]>["br"]>["br"]>["br"]>["br"]>["br"]>["br"]>["br"]>["br"]>["br"]>["br"]>["br"]>["br"]>["br"]>["br"]>["br"]>["br"]>["br"]>["br"]>["br"]>["br"]>["br"]>["br"]>["br"]>["br"]>["br"]>["br"]>["br"]>["br"]>["br"]>["br"]>["br"]>["br"]>["br"]>["br"]>["br"]>["br"]>["br"]>
Sign into Goodreads to see if any of your friends have read The Getaway God.
Sign In »
date
newest »
back to top