The Secret Diary of Lizzie Bennet
by
Originally posted at Writer of Wrongs
Rating:
SQUEEEE!
It's no small secret that the web series
The Lizzie Bennet Diaries
is my most favoritest adaptation of
Pride and Prejudice
, which is my most favoritest novel in the world. I am incapable of reviewing
The Secret Diary of Lizzie Bennet
, both a novelization and an expansion of the web series, as someone who is not a lifelong Janeite and a fangirl who frequently says, "I thought you were Chinese" when people walk unexpectedly into the room.
Basically, when I heard that this book was a thing, my reaction was pretty much:
For the uninitiated,
The Lizzie Bennet Diaries
is a web series adaptation of
Pride and Prejudice
by Jane Austen about a grad student named Lizzie who decides to make a vlog all about her life. (First episode is
here.
You're welcome.) It's a brilliant modern update of the classic story, replacement marriage proposals with job offers and dismissive noble aunts with dismissive corporate investors and hot guys with... well, hot guys. There's sisterly bonding, hate to love, snark, and the very best version of Lydia Bennet that there ever was.
My lens is not exactly an unbiased lens, but let me tell you, from the point of view of a diehard LBD fangirl, you NEED this book in your life. All the Darcy scenes that happen off camera that you only see reenactments of or hear tidbits about? Like certain excursions in San Francisco? You see them in all their delightful glory, filtered through wonderfully snarky first person Lizzie. Best of all, you get to see Mr. Bennet, one of the characters who never made it onscreen, and see his wonderful relationship with his favorite daughter. Frankly, that's the very best part of this adaptation: the way it expands all the scenes we only got to see wee bits of in costume theater. Plus, there are charts! Cute little charts!
There are lots of direct tie-ins to videos, and you get to see Lizzie worry about the behind the scenes stuff as well.She talks a bit about stats, about the weirdness of notoriety, and the direct effect of it on her life and the lives of her sisters. It's all very meta and wonderful, and we get tons more Lydia and Jane, which is always lovely. While I do love me some Darcy, I feel like in this series and this book, the evolving relationships between the Bennet sisters is real the heart of the story and the most important element.
The book isn't perfect, though it's flaws were DEFINITELY softened by my fangirl squealing. Some of the writing, when not super funny and quippy, can get a leeeetle rough in spots (kill the dialogue tags. KILL THEM ALL). For some reason, a few of the most climactic scenes were told as direct transcripts of the videos, meaning we got no internal Lizzie monologue, NOR did we get the mannerisms of the actors to bring the words to life. I would have loved to hear those scenes filtered through some unreliable Lizzie thinking and to learn some extra insight into her state of mind at the time.
Plus, one or two characters just didn't pop in prose the way they did on camera, most notably Charlotte and Mrs. Bennet. I LOVE Charlotte on the show, but I didn't think the diary managed to capture her. And Mrs. Bennet, that OTT Southern lady obsessed with marrying off her daughters, isn't quite as eccentric as Lizzie portrays her in costume theater. Now, I know that's an exaggerated portrayal filtered through Lizzie's skewed perceptions, but the diary is also Lizzie-filtered (which makes it sound like a kind of drinking water), so I expected more from Mrs. Bennet.
HOWEVER. THE DIZZIE. THE DARCY LIZZIE. Which, let's be honest, is why we're
here
, isn't it?
Related: 'Ship Shape
More scenes, more awkward convos, more examples of SHIPPING PERFECTION. You get to see them talk during The Most Awkward Dance Ever (tm Charlotte Lu) and so much more. YOU GET TO READ DARCY'S LETTER. I read this on the plane home from BEA and squeed and thrashed and flailed until i got peevish looks from my seatmate. WHATEVER, GRUMPY OLD SNORING DUDE, LIZZIE AND DARCY ARE TAKING A TOUR OF SAN FRANCISCO TOGETHER. YOU WOULD FLAIL TOO. They are just as cute on the page as they are on the screen, and you get to see tons more evidence of their perfection. So many little scenes that could never have made it into the series are sketched out fully in the diary for us. It's like Christmas come early for fans of the show.
Now here are some gifs for reasons.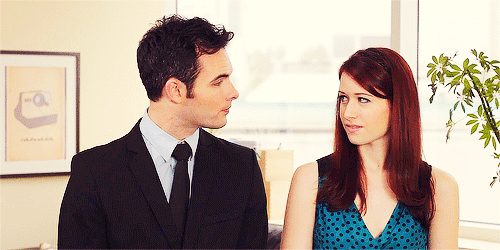 GAH, YES, FOCUS. Fooooocus. We were talking about a... a book, right? Some kind of book with words? And people? Sure, yeah,  go read it. Read do. Uh huh. *keeps Googling kissing Dizzie gifs*
Sign into Goodreads to see if any of your friends have read The Secret Diary of Lizzie Bennet.
Sign In »
Reading Progress
June 3, 2014 –
Finished Reading
date
newest »
back to top