Rum Punch
by

Find all of my reviews at:
http://52bookminimum.blogspot.com/
4.5 Stars
"My ass may be dumb, but I ain't no dumbass" – Ordell Robbie
Well, call me a dumbass because I had no idea that
Rum Punch
was the real name for
For the past 17 years I've been singing the praises of Tarantino's film – only to find out Elmore Leonard was actually the mastermind behind this product. (In defense of my undying Tarantino love – casting Pam Grier as "Jackie Brown" rather than some rando white broad as "Jackie Burke" was genius). A Facebook discussion regarding "manly authors who write manly books" was the driving force behind me letting the moths out of my wallet and dropping $15.00 (FIFTEEN MOTHERFUCKING DOLLARS?????? HIGHWAY ROBBERY!!!!!) on
Rum Punch
this weekend. When I discovered one of my favorite films was actually a book by an author I
should
have been reading a long time ago (due to my Carl Hiassen fangirl status), I had to come off the cash and read it immediately.
What did I find? The movie "Jackie Brown" literally played in my head while reading this book. Leonard's work is so brilliant that Tarantino didn't even have to change the
dialogue
. I love an author who can toss a billion main characters into one big pot and produce something delicious – and that is what happens with
Rum Punch
.
If you're one of the few who have never seen "Jackie Brown" but are looking for an action-packed tale of double-crossing with a complex plot that, at times, might leave you asking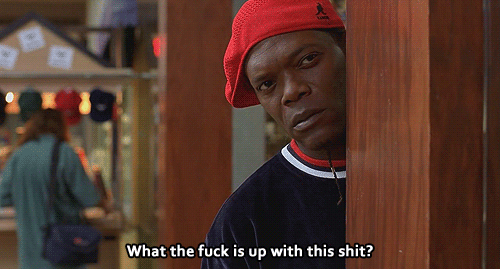 – then this is the book for you.
If you're like me and have read many "Elmore-inspired" authors, once you read the real thing you will know:
Sign into Goodreads to see if any of your friends have read Rum Punch.
Sign In »
May 23, 2014 –
Started Reading
May 23, 2014 –
page 1
0.27%
"Today I become a man . . . or something like that. First Elmore Leonard for me EVAH."
May 24, 2014 –
Finished Reading
(showing 1-7 of 7)
(7 new)
date
newest »
back to top