Night Terrors (Shadow Watch, #1)
by
Tim Waggoner
(Goodreads Author)

I hope I do this book justice.
This book was probably the most fun I have had reading a book in over a year.
To explain the world that you are entering. You have Ideator's who have brought their nightmares to life. Incubus's are their nightmares. Hard to kill and pretty much out of control. You have Earth and the land of Nod. The author does such a great job without overdoing the info dumps explaining his worlds that it's just amazing. Once you start this book just buckle your seatbelt and enjoy the ride. A ride it is indeed.
Jinx-insane clown incubus at night. Loves nothing more than causing and creating havoc as he goes.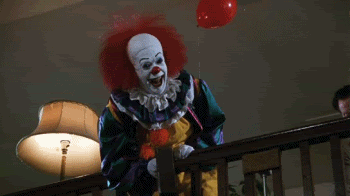 His day personality reminds me of this guy:
Audra is his Ideator. She brought him to life from her nightmares as a child. Now they are partnered in the firm called Shadow Watch (think Men in Black). Wiping out crime between Earth and Nod.
Many of these characters crack me up. You have Mr. Sanderson who may or may not be the famous "Sandman"
Phillip and his hell hound Bloodshedder. Aka initials BS.
and so many more that hopefully I get to see more of from this author.
I cannot wait to read more from this author.
Five very large stars to this book!
I recieved a ARC copy of this book from Netgalley and Angry Robot in exchange for an honest review. Thank you so very much.
Sign into Goodreads to see if any of your friends have read Night Terrors.
Sign In »
05/09/2014
3.0%
"Lots of people are freaked out by clowns, but Jinx isn't just a scary clown: he's something out of a nightmare.

This is gonna be fun!" 1 comment
05/10/2014
18.0%
"I smiled at Jinx to let him know that I was both impressed and grateful. In response, he stuck his index finger up his nose and began digging around.


Well..she does have a psychotic clown as a partner."
05/10/2014
38.0%
"I'm having the most fun with this book.
During the day the Deathmobile is a beat up Pinto.

At night..it becomes a hearse with death ray beams! Awesomesauce!
"
05/10/2014
68.0%
"Last week he made a salami and toenail-clipping sandwich-with extra toenails.

I think this book is probably getting 5 stars. :)" 3 comments
(showing 1-6 of 6)
(6 new)
date
newest »
back to top