Anna and the French Kiss (Anna and the French Kiss, #1)
by
No matter how much I whinge in this review, I really
do
like this book. There was just so much ANGST. Gah! I felt an overwhelming desire to knock everyone's heads together. Several times.
Writing?
Perfectly excellent. Anna had an irresistible writing voice! She was normal, insecure, a tad bit OCD and totally adorable. I loved her hesitating. It was nicely realistic. A lot of the time YA books have girls who take the plunge and things work out. But in real life: sometimes you take the plunge and it all goes horrible WRONG. I think Anna's fear of the "wrong" was well written. She wasn't whingey. (She was kind of stupid at times, though.) I just wish she'd GAH gotten over herself at times.
I loved the theme of loneliness!
Yay! It was an epic thing to write about, and it's not done nearly enough. Who isn't afraid of being alone? Exceptionally well written, Stephanie Perkins.
Plot?
Weeell, here's where I come a bit unstuck. The plot was good for the first 50%, but I felt after that it went round in circles quite a bit. I got a little bored. The plot twists weren't heaping up. The relationships were getting more complicated, but dump a whole truck load of INTENSE ANGST in there and booyah. The plot. I wanted a bit more. The novelty of the book being in PARIS wore off after 50% too. It could have been set anywhere. We didn't see any more French landmarks or experience French things. It was just boarding-school-stuff. Which is fine, don't get me wrong, I just...well, heck, it's in PARIS.
I really love Paris.
I also love food and this book had lots of it!
HUZZAH. Bring out the croissants and French restaurants and a whole cafe dedicated to chocolate crepes with ice cream. *dies* Please send me to France. ASAP.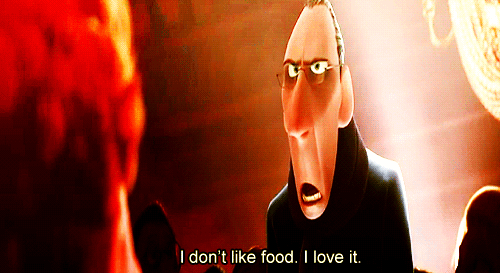 Since the title has "French Kiss" in it, I figured there had to be some Etienne and Anna coupling.
But seriously, did those two slip in and out of romantic possibilities. I kind of found it frustrating. But this is chick-lit, right? That's what chick-lit is about, isn't it? Love and the possibilities and the angst and the break-ups-get-togethers? BUT GAH IT WAS A BIT LIKE STOP IT ANNA AND ETIENNE YOU'RE ADORABLE BUT SHUT UP AND GET ON WITH IT.
Also: small note here: I like it how Anna was interested in reviewing and had a website!!!
It was a good book, not as riveting as I was expecting, but I still thought Etienne was swoon-worthy (though a bit of an idiot) and Anna was adorable and sweet (and a bit of an idiot) and basically I love Paris a lot.
Sign into Goodreads to see if any of your friends have read Anna and the French Kiss.
Sign In »
Quotes C.G. Liked
"I don't understand why things always go from perfect to weird with us. It's like we're incapable of normal human interaction."
―
Anna and the French Kiss
Reading Progress
December 31, 2013 – Shelved
December 31, 2013 – Shelved as:
to-read
March 2, 2014 –
Started Reading
March 2, 2014 –
page 120
30.0%
"Well I see why everyone has a crush on St. Clair. But seriously, wouldn't it be easier to call him Etienne? I mean, St Claire takes a lot more effort. Just being logical here."
March 2, 2014 –
page 315
78.75%
"You know what? This book would have been a whole lot shorter if Anna had just confessed on page 100 that she loved him. Which she did. Duh."
March 2, 2014 –
Finished Reading
date
newest »
back to top