Barely Undercover (Legal Heat, #2)
by
~Steph K~
's review
bookshelves:
book-type-arc
,
character-alpha-male
,
character-bikers
,
character-cops-detectives
,
character-dom-male
,
character-priv-investig-security
,
content-abused-troubled-past
,
content-tattoos-piercings
,
genre-adult-erotic-rom-suspense
,
pages-300-to-400
,
read-2013
,
setting-motorcycle-club
,
favorite-author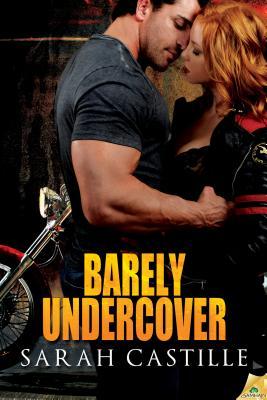 5 out of 5 Sizzling Stars

When private investigator Lana Parker follows a dangerous biker into an underground sex club, James Hunter is the last man she expects to see. But there he is, all dark looks and chiseled charms, ready to break her heart all over again.

Danger is the name of the game for an undercover cop. And the last thing James wants is for the fiery beauty to come anywhere near the notorious biker gang he's trying to take down. Yet Lana has no intention of giving up her case, which means he'll have to keep her close to keep her safe. A risky proposition-especially when their blazing sexual chemistry reignites an unforgettable passion.

But when a dark terror emerges from the past, Lana goes on the run...and James gives up everything to save her. Backed into a corner, Lana must face her fears, including the one thing that frightens her most...her overwhelming feelings for the man whose searing glance sparks her most hidden desires, the man she should not trust, but cannot resist.

Lana is one strong woman.  Escaping after years of abuse from her ex-Levi, and the members of his MC she flees to Canada.  She's made a life for herself as a private investigator with her new friend Jackie, and even fell for someone safe, James, a cop.  Unfortunately after a couple of months he leaves unexpectedly in the middle of the night, leaving her broken hearted again.  But two years later, she's working on a case, trailing Rex, the head of Hades MC - and who does she run into but James - but he's undercover and known as Ice, now a member of the Hades MC, and James is working on taking the MC down.

Sparks fly with these two - and it is hot.  The tension is there - she doesn't want to give in afraid to be hurt again - and he still craves her but doesn't want to have to hurt her again by leaving, and he's afraid for her safety has she pries into Rex's life at the Hades MC Club.  Fortunately they can't fight the feelings and the sparks fly - and James is the dominant, alpha that makes you feel all squishy inside!  He definitely knows how to ride a motorcycle!

The problems are still there - James knows Lana is hiding something from her past, and she won't give up her current case looking for info on Rex for his wife.  Lana is stubborn and feisty and won't give up the case - but she's still afraid that her past is going to come back to haunt her. 

This book had a great cast of characters besides James and Lana - you get to know Jackie her best friend better and their crazy friendship and all their disguises.  You also get to meet Ryder, another member of the Hades MC and whole other type of sexy - but more like James than Rex.  This story takes you on a great ride - and I look forward to the next book in the series!


Sign into Goodreads to see if any of your friends have read Barely Undercover.
Sign In »
Reading Progress
September 6, 2013 – Shelved
November 24, 2013 –
Started Reading
November 26, 2013 –
Finished Reading
No comments have been added yet.