Vampire Mine (Alpha and Omega, #3)
by
I'm going to keep this short and sweet for this one.
Trey:
You my delicious, dirty-talking vampire, were everything I had hoped you would be and so much more! Seriously, I want your
*************************
Sadie:
Nothing is better than a kick-ass heroine, and Sadie was definitely that. I loved how tough she was, yet still had that hidden vulnerability when it came to Trey.
************************
Trey and Sadie together:

"I want to be inside you so bad, baby. I want to feel that hot, wet pussy of yours all around me."
"A dirty talker, are you?"
"For the most part, but I can be romantic when the mood calls for it." "I'm not in the mood for romantic. Are you?"
"Hell no." He went at her clothing, tearing the shirt from her back.
"I want to fuck you so hard you won't be able to walk straight. I'm going to make sure you're so sore you won't be able to stop thinking about me and what I've done to you."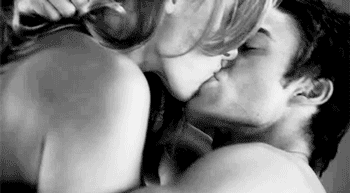 ********************
Leigh:
You have a sweet, sexy as sin mate that wants to take care of you, and all you can do is whine the entire book about the life that you had before you were turned?
Pretty sure I'll be skipping right over her book when she gets one. Whatever her story is...
I loved Nathan, but Leigh drove me nuts, and she was only a secondary character. Not sure I can tolerate a whole book with her whiny ass. Unless she undergoes a complete personality change, doubt I'd be reading that book.
*****************
Kinsley:
I cannot freaking wait for his book! The set up sounds absolutely delicious.
*****************
Aldon:
That epilogue threw me for a loop. I don't even know how I feel about that. I do know that I'm very excited for his book, because there's one thing that I like more than a dirty talker, a baddie that's also a dirty talker *swoon*
Overall, I enjoyed it, though it won't be my favorite in the series. I've been anticipating this book since Omega Mine. Maybe it was partly setting my hopes too high. Maybe it was that it was overrun by too many other POV's and that took away from Trey and Sadie. I just wanted...more from this one.
4 Dirty-Talkin' Stars
For more reviews visit:
Dirty Girl Romance Book Blog
Sign into Goodreads to see if any of your friends have read Vampire Mine.
Sign In »
Reading Progress
August 7, 2013 – Shelved as:
up-next
August 9, 2013 –
Started Reading
August 9, 2013 –
0.0%
"AHHHH! FINALLY! FINALLY! FINALLY!\n I don't usually squee but\n SQUEEEEEEEEEEE\n
\n
\n
"
August 9, 2013 –
34.0%
""Shifters don't have shit on us, mortal. You pull a gun on me and I'll be behind you before you can blink. I'll break your neck before you know what's happening to you. You'll go down faster than a five-dollar hooker.\n
\n \n I'm loving the hell out of Sadie! Nothing better than a kick-ass heroine."
August 10, 2013 –
44.0%
"Yes, Leigh, I get it..life is tough. You didn't want to be a vampire...bla bla bla\n You don't want to drink blood...bla bla bla\n You don't want your mate b/c you're still in love with your childhood whatever...bla bla fucking bla!\n
"
August 10, 2013 – Shelved as:
faves
August 10, 2013 –
Finished Reading
Showing 1-35 of 35
(35 new)
date
newest »
back to top