Creed (Unfinished Hero, #2)
by

Oh the
angst
! Oh the
anguish
! Oh the
sex
! (lol) This book had a
lot
of it all.
This one was a little different than the usual KA, because basically the plot was about longtime friends/lovers Sylvie (34) and Creed (39) finding their way back to each other after 16 painful years apart...and there really wasn't much else going on. A mildly suspenseful plot that had Sylvie and Creed both working together (they're both PI's) for Knight really just sort of fizzled and had some loose ends. While I did enjoy Creed immediately (c'mon, who wouldn't!), it took me a little time to fall for the adult Sylvie--her badassness took some getting used to at first. But I did eventually enjoy her and respect her.
Creed...
The book didn't flow so smoothly for me. And I hate to admit it, but half way through I found myself wondering "is anything going to happen in this book--they seem happy--now what?" It was hard to keep reading from the present day and then jumping back in time while KA
eventually
led you to read what happened to cause the breakup of their relationship. It was sad and horribly painful (those no good parents!) but I felt a little bit was missing. I wanted to
read
a little bit about what happened when
(view spoiler)
[Sylvie was sold off to that no good pimp/drug dealer, rather than being told what happened. I think that would've made even more of an impact. I wanted to read what Creed did when he finally escaped from Sylvie's rotten father. Did he ever try to look for her? Or did he believe that 'promise' he made? And why didn't he look for her years later, if he was so obsessed? (hide spoiler)]
Those questions kind of bugged me.
Sylvie and Creed
...
I did enjoy seeing Knight(!) and Anya again, liked the relationship between Sylvie and her neighbor Charlene,
and
Sylvie's relationship with Creed and
(view spoiler)
[his kids (what a good dad!) (hide spoiler)]
. And while I thought the sexual relationship between Sylvie and Creed was flamin'
hot
, dare I say that maybe there was a bit
too much
of a good thing? When I start thinking "maybe I'll skim over this" that isn't a good sign for me...
They were hot together...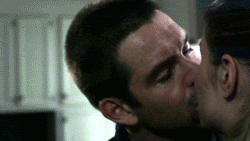 But oh boy, that epilogue? Wow! I wanted a HEA for Creed and Sylvie, and man did KA give them one--and then some!:)
Not my absolute favorite from this author, but still a must read for her fans. And any potential new fans--this can be read as a stand alone. Enjoy! 4 stars["br"]>["br"]>["br"]>["br"]>["br"]>["br"]>["br"]>["br"]>["br"]>["br"]>["br"]>["br"]>["br"]>["br"]>["br"]>["br"]>["br"]>["br"]>["br"]>["br"]>
Sign into Goodreads to see if any of your friends have read Creed.
Sign In »
Reading Progress
March 5, 2013 –
Started Reading
March 5, 2013 – Shelved as:
e-books
March 7, 2013 –
100.0%
"Wow. What a story. My head is spinning..."
March 7, 2013 –
Finished Reading
date
newest »
back to top