The Secret of Ella and Micha (The Secret, #1)
by

REACTION AFTER READING THE BOOK:
I had to calm myself down before I was able to make a review for this book.
It got me so hyped, absorbed and addicted.
Micha got me wild and sooo ready toooo…
do something dirty
DANCE!
RAWWRRRRR!
If you are ready to read about some steamy unbelievably sexy scenes like this
[image error]
GIFSoup
Then I recommend you get your hands on this unbelievably
sexually
stimulating book!
Okay so let's get down to the review.
THE GIST:
Ella has always had this wild streak in her. That was one of the reasons why she and Micha got along.
But something happened and it made Ella want to run.
Wanting to forget, Ella went to college and left everything behind including Micha whose heart was shattered to pieces.
For the summer, Ella has to come back to the place she desperately wants to forget. She had to go back and show them that she was a different person now. She was determined to show everyone that she was the "new" Ella.
But Micha was not convinced.
He wants her Ella back and he was going to do everything he can to make sure it happens.
FIRST IMPRESSIONS
I have always been a sucker for pretty covers. This one definitely has to be one of them. I mean just look at the two of them. Don't they just look cute? The girl with the fiery red lipstick and the hot guy with the lip ring wanting to kiss each other but don't want to because they were trying to be cute? Hahaha. But they are cute. And I think they were a good representation of the book. The cover was not deceiving because the inside of the book was just as cute as the cover.
CHARACTERSElla
I liked the before Ella really. I mean all of us mistakes and it was only right that she gets the chance to forgive herself for those. Although the old Ella was a little wild and carefree and sometimes out of control, I liked her because she was true to herself. I have never been a fan of people who try to change who they are because they always think of how other people will think of them. Ella was a sad, broken girl felt that she didn't have anything in her life. She had a mother who was bipolar, a father who drunk himself to death and a brother who was the first to leave the house because he doesn't want to deal with all of it. Who could blame Ella for wanting to make a change in her life to improve herself? I definitely don't but leaving your problems behind and pretending it isn't there doesn't solve anything. But Ella was a strong girl. I admired her will for a change but I have to admit I got pretty pissed that she was trying to push away the person who cared the most about her. Who? Well you should know that by now already. :p
Micha
And then we have Micha, the not-so-knight-in-shining-armor of our story. Why did I say that? Because Prince Charming is supposed to be all perfect, who has everything planned out for himself and his future princess. But Micha wasn't that. He was hot as hell sure plus he definitely knows how to
please a woman!!!
take care of the people he loves but still he wasn't perfect. Micha was Ella's knight in shining armor but he was rough around the edges which I think was even better. Micha's character was totally believable. I love him because he wasn't perfect. He has his flaws too especially when it comes to his father
who I'd rather not talk about
. Another thing I'd like to emphasize, Micha is just HOT AS HELL with all that singing of his with a ring on his lip. Not only that he also has, additional things that he could do that I'd rather not mention because just thinking about it makes me…
aroused
heated up
HAPPY. Yeah reading about Micha makes me happy. :p
*There were bunch of other characters in the story but I'd like to focus on the two because mainly the story revolves around them. I'd like to still introduce you guys to Lila and Ethan. I liked those two because they were good friends to our lovely couple. Lila was your typical rich kid but then again after reading about her, I kind of liked her even though she was still a rich spoiled brat to me. Ethan also has his story to tell I believe but I guess that is for another story. Oh did I totally forgot the part that I think Lila and Ethan have a thing for each other? :p
MICHA + ELLA = JAM-PACKED WITH SEXUAL TENSION
I love Micha and Ella to death but as I was reading this book I wanted to smack Ella in the head the whole time. I wanted to shake her up and say, "GIRL YOU ARE PASSING UP AN AWESOME GUY! WAKE UP!" Good of her to listen though. :p Anyhow, I knew these two liked each other way before they admitted it to each other. I don't know how it is with long-term friends being lovers but I am sure it's a little awkward. Maybe that could be one of the reasons why all those sexual tension build up as high as the Eiffel Tower. I mean GAAAWWWD Ella, were you really going to say no to Micha?
I sure hell wouldn't.
Also be ready for a lot of this:
And this: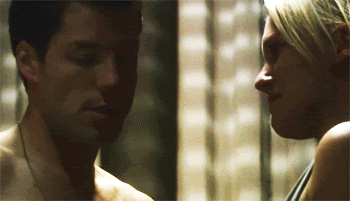 QUOTABLE QUOTES
"I love you, Ella May and nothing will ever change that. You can push me away -run away – and I will still love you."

"You've always had a good grasp on what's right and wrong. You just have a hard time admitting that sometimes you choose the wrong."

"Before I took off, the boundaries of our friendship were starting to blur. I thought time would fix this, but it seems like we're back to where we started. As much as I would love to melt into him, it just can't happen. I can't open up like that and lose control. I need control."

"Something snaps inside me, like a rubber band. With one swift movement, and the aid of my own willingness, Micha lifts me over the console and I straddle his lap, looping my arms around his neck."

"We don't speak as we stare up at the sky. He traces his finger along the folds between my fingers and my eyelids drifts shut. I feel a wall crumble, leaving behind dust, debris and pieces that desperately need to be put back together."
HIGHLIGHTS
* The alternating Point-of-Views between Ella and Micha made this book. I think it wouldn't be as effective if we were just reading the story in Ella's POV. I wouldn't have enjoyed it as much if it was. Because for a story like this to work, you'll have to know what both party are thinking while the situations happen just like with this book.
* The story was simple and easy to follow. There were no deep plotline but I appreciated it just the way it was because for me it felt more character driven which worked. I felt more connected to the story because I knew where the story was going so what I really was looking out for was the reaction of the characters to the situations that they were facing.
* The characters were believable. There was no extraordinary stuff going on like the male lead character was the perfect one and tried to make the girl see that she was too. No, there was no crap like that. What we see here, are two emotionally driven characters who were flawed and in need of love that they eventually found with each other. Simple yes, but the process of these two characters getting there was a long and tedious one. Like I said, the story was simple but the characters were not so which I think made it all work.
FINAL WORDS
What can I say? I was totally blown away by this book. It was definitely not what I was expecting it to be. There were a mix of emotion here and there with a wide array of witty lines that made me smile and sometimes frown
I sometimes hate Ella's negativism
.
If you are looking for a love story that will make your head hurt because of all the complexities then I don't suggest you reading this.
This book was simple and genuine. Like I said, there was nothing bewildering about the story. There was nothing that would make you jump out of your seats because it scared or surprised the shit out of you. No there's nothing like that here.
Unless you count the steamy scenes between them there are loads of that in this book
What you will have though is a glimpse of how two people who someone lost each other and found their way back and how they did it.
I am honestly happy that I picked up this book and read about Ella and Micha. I have never really understood how friendship and love works because it never happened to me. I have always believed that the best relationship starts with strangers but these two made me realize how important friendship is to make things work out. They weren't sure where to start but eventually they found their way.
Would I recommend it? HELL YEAH!
Just a warning though, this book has a lot of sexual situations and mature contents like gif here below:
so if you're not ready to read something like that please don't pick this book up because it is full of it. Although I would have to emphasize, THIS WAS AN AWESOME READ!
*************************************
PRE-REVIEW:
Geeezzlleeeewiiiizzzz! :)
I finished it last night because I couldn't put it off for another day.
There was just so much sexual tension it made me want to do sommersaults in a wire like this guy below.
Micha is just so freakin' hot!
My imagination went into overdrive as I was reading it. :p
Micha! Come on here so we could make sweet love!
Review to follow. :)
Sign into Goodreads to see if any of your friends have read The Secret of Ella and Micha.
Sign In »
Reading Progress
November 26, 2012 –
Started Reading
November 26, 2012 – Shelved
November 26, 2012 –
page 6
1.92%
"What's your secret Ella? Why did you leave? What are you so scared about?"
November 26, 2012 –
6.0%
"What's your secret Ella? Why did you leave? What are you so scared about?"
November 27, 2012 –
25.0%
"Ella are you crazy! \n If Micha was mine I'd probably be doing this!\n \n
\n \n If you don't want him I'll steal him from you!"
November 28, 2012 –
40.0%
""Actually, I'm taking her for a ride," I say slyly, inching my hand up the back of Ella's leg, and she slaps the back of my head playfully. "I'm taking you for a ride in my car. And you think I'm a pervert?"\n \n *sweeetttt heavens!! I am in loveeeee with Micha!*\n \n
"
November 29, 2012 –
Finished Reading
Showing 1-21 of 21
(21 new)
date
newest »
back to top