Lover at Last (Black Dagger Brotherhood, #11)
by
Georgia ♥ Team Dex ♥
's review
bookshelves:
2013
,
abused-hero-or-and-heroine
,
fantasy
,
guilty-pleasures
,
m-m
,
lol-chuckle-worthy
,
paranormal-romance
,
sobbing-mess
,
tattoos-and-piercing
,
the-sound-of-my-heart-breaking
,
vampires-blood-drinking-bunch
4+ FINALLY Stars
The story, we have all been waiting for. The book that we were raving about for a whole year and my personal initiation in the M/M genre. (details below)
Ladies and Gentlemen... (or Gentlemale if you part of the
glymera
)
Love. The difference between someone "loving" somebody versus being "in love" was a curb to the Grand Canyon. The head of a pin to the entire Midwest. An exhale to a hurricane.
Qhuinn
is really the son of no one.
Rejected by his own family, without bloodline and relatives he is angry, frustrated and scarred. His only solace: fighting in the Brotherhood, his desire to built a family and have a child and his one and only comfort…
Blaylock
son of Rocke.
Blay was always there for Qhuinn. Because he was in love with him. But when he broke his heart, he saw no other choice but to live his life and try a new relationship with a decent and surprisingly admirable man, Qhuinn 's cousin Saxton.
Blinded by pride and feelings of inadequacy, they are withering apart.
Will these two ever manage to be together? Will they pull their heads out of their asses and realise what is right in front with them? Or tradition and their own stubbornness will forever be between their happiness?
What the hell did I just read???
As I have mentioned with this book
I AM COMING OUT OF THE CLOSET!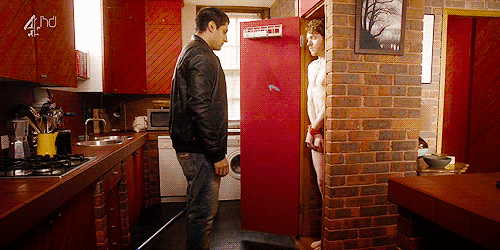 My first official M/M read, here in Goodreads!
And with Qhuay, it was a ride I'll never forget…
I have never expected so much passion and emotion. I felt invested in this story and I fell in love with these two incredible men…
Now, aside Quay, the rest of the book was a little all over the place… It signifies a time of transition and a fundamental change in the world of the brothers but I was really kinda bored reading all about Xcor and Sola and Elan and a bunch of others.. Now, if we were also getting, an extensive look into the lives of the mated pairs, I wouldn't complain, but alas not much of this happened.
The action aspect of the story was really good and the Brotherhood kicked some ass and closed ranks, so that part rocked!
Reading this book gave me a whole new perspective.
Weird Inner Dialogue/Random Thoughts:
⬗ At the beginning: Breathe in… out… You can do it Georgia, you have survived cliffies and Nicholas Sparks books which then turned into movies, bad reality shows and your brother's teenage years. What is an M/M book???
⬗ First sex scene: WOW! That's seriously HAWT, I was seriously missing out…
But wait a minute… Weren't things supposed to be….
wetter
? Is this man part different from woman's ? Noooo can't be… Where is the lube????
⬗ Layla=Dignity:
⬗ Qhuinn's virginity: Sweet. Mother. Way to goooooooooooo! Still no lube?!?!?! What is wrong with these guys? Is male vampires built differently? That can't be comfortable...
⬗ Wrath petting George: Gosh I'm jealous of a freaking dog!!! PET ME WRATH!!
⬗ Layla/Xcor: I survived an M/M book and now I gotta get through a freaking villain book?? OMG! What else will happen to me???
⬗ Qhuinn's Brother: What kinda name is Luchas??
⬗ The incident with the hoods (not the first one, the OTHER…)
⬗ The ending
Hey don't blame me… It was my first time!! :P
Game-changing and provoking, this the one book in the Black Dagger Brotherhood Series, you don't wanna miss.


Sign into Goodreads to see if any of your friends have read Lover at Last.
Sign In »
Quotes Georgia ♥ Team Dex ♥ Liked
Reading Progress
October 8, 2012 – Shelved
March 28, 2013 –
Started Reading
March 28, 2013 –
0.0%
"OK, I'm officially declaring my initiation in the M/M genre... Let the games begin!!!\n
"
March 29, 2013 –
15.0%
"Quay, beloved ones...
\n You got the wrong ones, in there, anyway.... SHIIIIT, I can't believe I just thought, that!!!!"
March 29, 2013 –
100.0%
"I've been kinda MIA all day because I couldn't put it down.... OMG!! *writing review*"
March 29, 2013 – Shelved as:
2013
March 29, 2013 – Shelved as:
fantasy
March 29, 2013 – Shelved as:
m-m
March 29, 2013 –
Finished Reading
Showing 1-50 of 148
(148 new)