Opal (Lux, #3)
by
Pen-rye-n
's review
bookshelves:
2012-has-been-a-weird-year
,
alien-fetish
,
fangirl-engaged
,
favorites
,
i-ll-have-it-s-babies
,
i-want-to-cuddle-it
,
kick-ass-heroines
,
kinda-awful-but-i-love-it-anyway
,
oh-thats-just-my-boyfriend
,
paranormal-whatsits
,
romantical
,
series
,
sweet-comedic-relief
,
why-wont-you-just-die-already
,
ya-all-day
,
whiskey-tango-foxtrot
http://paperboyfriends.blogspot.com/2012/09/brace-yourselves-opal-cover-reveal.html
LOOK AT HIM. LOOK AT HOW PRETTY HE IS. LOOK AT HOW I'M INCAPABLE OF TURNING OFF MY CAPS LOCK.
11/28/12:
Paper Boyfriends: Cue Swooning: Opal Book Trailer Reveal.
OH. LOOK AT THAT. JUST WHEN I GAINED THE ABILITY TO TURN OFF MY CAPS LOCK SUDDENLY THIS HAPPENS AND I FEEL ALL THESE
FEELINGS.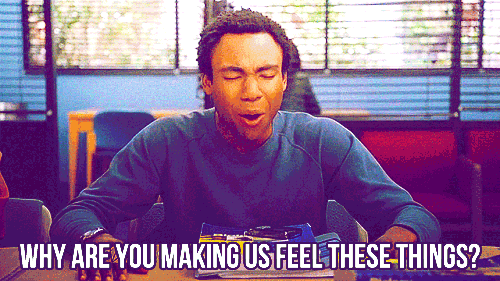 12/6/12
Okay. That was the initial .gif freak out. I know. It was a little overboard. I understand. But seriously? SERIOUSLY?
SEEEERRRRIOUSLY
? That ending?
THAT ENDING?
Why? WHY WOULD YOU EVEN? WHAT THE. THAT IS NOT OKAY. This. I'm. What. WHY. Why would you even? What the.. I just.
SERIOUSLY?!
I. Can't. Even. I CAN'T EVEN. I CAN NOT EVEN AT ANY POINT. WTactualF. You are making me
feel
things right now, Armentrout. Things in my heart that
hurt
. You are
hurting
me.
I...I need to call someone. I need to talk to someone about this.
12/10/12
Okay. I think I'm ready to talk about things like an intelligent, coherent adult.
WARNING:
Everything from this point on will most likely involve spoilers and/or gifs. I understand how some people on here are all, "OMG REVIEWS FULL OF GIFS ARE
SO
LAZY!" This maybe so, however, I also haven't bothered putting on pants today or fixing my hair or anything that requires much effort, so.. yeah. There's a theme here, is what I'm saying. BASICALLY, CONTINUE WITH THIS REVIEW AT YOUR OWN RISK.
Me for majority of
Opal
:
Things are still happening in the Lux world. Crazy shit. Banana sandwich shit. Like Blake. Remember that guy? Of course you do. HE KILLED ADAM AND WE HATE BLAKE. BLAKE CAN DIE IN ALL THE FIRES. Except now he's back and blackmailing our alien and freak-hybrid so..
awkward.
And Dee? Our girl? Yeah. She's giving us the finger. Well, not exactly. But she's snubbing us and can we really blame her? She lost her hunka hunka burning freaky-light-being love and we'd probably react the same way if we lost Daemon. Right? Right. But, seriously. Come on, Dee. You added a level of awesome to these books that's hard to achieve with you off moodying it up with Ash & Andrew.
Also: ASH. What a bitch.
Gawd.
But Dawson. We have Dawson back.
And he is
precious
. And extremely damaged. And pining for his freaky-hybrid Lady Love Beth who is still in the DOD's clutches. And he's slightly unstable. Just slightly. But seriously.
Precious.
I'm here to comfort you, Dawson! And/or touch your glow stick! Whatever makes you feel better!
You know what was fabulous about
Opal
that we didn't see in
Obsidian
or
Onyx
? NO WHEEBLING FROM KATY! She wasn't over there all, "DAEMON ONLY LIKES ME BECAUSE OF THIS WEIRD HEAL-Y CONNECTION THING WE HAVE GOING ON!" "I like him, but I don't
like
-like him. Because he's a jerk! A hot jerk! But a JERK." "Yes, I might be sexually attracted to him and wanted to do bad things with his glowstick, but dammit, I also want to be
normal
too and WHY DOES FURNITURE KEEP MOVING WITHOUT ME TOUCHING IT? GOD. GO BACK TO THE CORNER, UGLY ARMCHAIR." Katy and Daemon are a thing now and there's no back and forths. We have succumbed to the power of the lit-from-within alien love and now we're just going to spend an entire book trying to get it on and BEING INTERRUPTED EVERY SINGLE TIME, GOD, YOU KIDS. HANG A SOCK ON THE DOOR OR SOMETHING. LET THESE PEOPLE KNOW NOT TO KNOCK.
Hint:
(view spoiler)
[They finally do it and I never do find out if it's like a glow stick or not but Daemon does refer to himself as a glow worm which made my heart happy because: Paper Boyfriends: Lux Nerd Girl Chat THANK YOU FOR MAKING ALL MY DREAMS ALMOST COME TRUE, ARMENTROUT. (hide spoiler)]
Also. Clarrisa. FOREVER SAD FACE. Seriously though. The flu? You bought that, Katy? Come on. Does anyone EVER get the simple flu in these types of stories? Of course they don't. You should know better, Ms. Book Blogger. Seriously.
Here's what I absolutely love about these books though, aside from Katy and Daemon's chemistry, which is still smoking or maybe that's just Daemon I don't know it's probably Daemon: This was not a filler. Three books in and things are still getting real, shit's still happening and our story is moving forward. Inching at times, only to leap at others, but we're still moving and Armentrout is not afraid to kill off characters, maim others, or just generally fuck some shit up. LIKE WILL. GOD. FUCK WILL. Armentrout is not afraid to tackle ugly. She's not afraid to bring it. LIKE IN THE FORM OF AIRBORNE ONYX. Holy shit.
Awesome.
Or Blake creeping in to Katy's bed at night.
BECAUSE THAT'S NOT CREEPY AT ALL, BLAKE. WTF. WEIRDO.
And the end. STILL. Good lord.
WHY.
Haven't we been good to you, Armentrout? Haven't we loved you and fangirled you and worshiped Daemon enough? Why would you do that? Why would you set out to hurt us so deeply? That wasn't a cliffhanger. You shoved us off the freaking cliff. Left us with an Arum surrounded by lasers and the DOD. (Okay. The lasers were cool. I'll admit that.)
Harsh.
["br"]>["br"]>["br"]>["br"]>["br"]>["br"]>["br"]>["br"]>["br"]>["br"]>["br"]>["br"]>["br"]>["br"]>["br"]>["br"]>["br"]>["br"]>["br"]>["br"]>["br"]>["br"]>["br"]>["br"]>["br"]>["br"]>["br"]>["br"]>["br"]>["br"]>["br"]>["br"]>["br"]>["br"]>["br"]>["br"]>["br"]>["br"]>["br"]>["br"]>["br"]>["br"]>["br"]>["br"]>["br"]>["br"]>["br"]>["br"]>["br"]>["br"]>["br"]>["br"]>["br"]>["br"]>["br"]>["br"]>["br"]>["br"]>["br"]>["br"]>["br"]>["br"]>["br"]>
Sign into Goodreads to see if any of your friends have read Opal.
Sign In »
(showing 1-5 of 5)
(5 new)
date
newest »
back to top