Requiem (Delirium, #3)
by
~EDIT #3~ ACTUAL REVIEW (
SPOILERS AHEAD
):
Okay, I know
a lot
of people have read/liked my 'review' for the ending of Pandemonium and the blurb of requiem, but here's my
long-awaited
review of Lauren Oliver's Requiem.
I'm going to be very, very honest here. I didn't like it. Compared to the awesomeness that was Delirium, this was honestly disappointing. I hate when authors sway to far from the original plot of the series, which was exactly what Lauren Oliver has done in this latest installment.
The first book was an exciting tale about two people who were in love, and were determined to keep it that way, despite the costs. Alex and Lena's love story was thrilling and interesting, due to the circumstances of their illegal romance and having the characters experience emotions that were entirely new to them. The second book added more depth to the rebellion side to the plot, but still continued with a forbidden love story between Lena and Julian (no matter how much we may have hated Julian, it was still true to the trilogy's origins of forbidden love).
But this book felt sort of...flat. ESPECIALLY since the ending to the last book was so shocking and exciting, the way Oliver continues the story is disappointing.
Firstly, you'll have to forgive me for leaving out some detail, I read the book over a year ago and I'm only just getting around to the review. But I remember that I was really pissed that the start of this book didn't pick up right after the last book finished. I wanted to know what Lena's immediate reaction was, I wanted to know what was said after "Don't believe her.", I wanted to know their first conversation. I NEEDED TO NOW THESE THINGS BUT I NEVER GOT THE ANSWERS.
There was no
spark
between Alex and Lena. Their love had been so passionate and intense in the first book, and I honestly refuse to believe that the air between them was so tense. Like yeah, Julian was a big bump in the road, but knowing Alex he would have understood. She obviously believed he was dead, and grief doesn't equal 'not able to find love again'.
Overall, I just wasn't interested in the plot either. I was so focused on wanting Alex to reconcile with Lena that nothing else sparked my interest.
Also, for a book with such bland emotion and frustrating (not in the good way) plot, the ending was
awful.
Yes, with some books you can get away with an ending that's very brief and vague, but this series needed more. The plot was just too BIG to end like it did. It was in dire need of an explanatory epilogue.
Oh well, some books are just duds. Whatever.
~~~~~~~~~~~~~~~~~~~~~~~~~~~~~~~~~~~~~~~~~~~~~~~~~~~~~~
~EDIT #2~ BLURB THINGY: "After rescuing Julian from a death sentence, Lena and her friends fled to the Wilds. But the Wilds are no longer a safe haven—pockets of rebellion have opened throughout the country, and the government cannot deny the existence of Invalids. Regulators now infiltrate the borderlands to stamp out the rebels, and as Lena navigates the increasingly dangerous terrain, her best friend, Hana, lives a safe, loveless life in Portland as the fiancée of the young mayor. Requiem is told from both Lena's and Hana's points of view. The two girls live side by side in a world that divides them until, at last, their stories converge."
Ha, I love how the description/blurb says NOTHING about Alex coming back. Probably JUST to torture us that wee bit more ;) But I love this, and I can't wait for Lena to meet up again with Hana.
~~~~~~~~~~~~~~~~~~~~~~~~~~~~~~~~~~~~~~~~~~~~~~~~~~~~~~~~~~
~EDIT~
THE COVER.
~~~~~~~~~~~~~~
This is what my reaction when I realised Alex was back:
and then this:
and This is what I did when I saw that it was the last page of the book:
and THIS is what I did when I saw the expected publication date of Requiem:
and this.
I hope there's someone else out there who understands that in the whole book of Pandemonium, I was basically just waiting for Alex to burst into the situation saying, "I WILL FIX EVERYTHING!".
BUT NO. He came on the very last page of the book. Now miss Lauren Oliver is making me wait an awful 8 MONTHS FOR THE NEXT BOOK.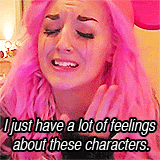 Sign into Goodreads to see if any of your friends have read Requiem.
Sign In »
Reading Progress
March 8, 2013 –
Started Reading
March 8, 2013 –
page 67
17.14%
March 9, 2013 –
page 97
24.81%
March 9, 2013 –
page 97
24.81%
"wtf Alex you're really annoying me. If you weren't Alex Sheathes I'd hate you."
March 9, 2013 –
page 117
29.92%
March 9, 2013 –
page 240
61.38%
March 9, 2013 –
page 240
61.38%
"Alex still loves her. I CAN SENSE IT."
March 10, 2013 –
Finished Reading
Showing 1-43 of 43
(43 new)
date
newest »
back to top