Scarlet (The Lunar Chronicles, #2)
by
Marissa Meyer
(Goodreads Author)
I was lucky enough to score an ARC of this fab second book in the Lunar Chronicles Quartet and thoroughly enjoyed reading it from beginning to end to page 240 for re-reading...and re-reading....
I shall do my best to write-up a spoiler free review (and mark it before any spoilers) but if you're at all concerned with getting even a HINT of what treasure lies in these pages, probably best to stop now---or just skim to the gifs ;-)
Cinder is back and on the run in this second installment along with Scarlet, an impulsive and fiery take on Red Riding Hood and the mysterious Wolf, a battered street fighter with a past, together they search for Scarlet's missing Grandmother in a story line that eventually collides with Cinder's.
This book captured all the charm of the original and expanded on it, making its core characters even more beloved to me and stealing my heart with its new ones! The pace was tight and suspense felt perfectly timed and then readers, then there was romantic tension. OH HOW THERE WAS! Did I mention re-reading the page 240 mark? I shall say nothing more.....
I highly recommend this series for all ages. My co-workers and I devour these books and so does my husband's 10 year old goddaughter. They have that something special and universal in them!
My reading experience can best be summed up in an alarming quantity of emotive gifs.
First of all --> Let it be known how calm and professional I always stay when ARC's like this land on my desk at work. The picture of poise and grace, that is I.
Cinder continues to be a total butt-kicking, snark-serving, quick-thinking, bonified hero in this book and uncovers more things about her past while struggling to reconcile her view of herself as an ordinary person against the epic figure of public notoriety and great purpose that she finds herself faced with. I think the most amazing part of this storyline for me was, how deftly it was woven side by side with Prince Kai so that you seamlessly see why they are PERFECT FOR EACH OTHER.
Which brings me to Kai, who is my favourite character. Understated, honourable, conflicted AND sarcastic. His dealings with the media of New Beijing had me laughing and high-fiving him.
The way the media is written is this series is so utterly believable:
Then there is Kai's Emperor awesomeness. He gets his own gif, because, as I mentioned, he's my favourite.
Then there was Iko, Cinder's one friend. I shan't post spoilers, instead, here are my feelings at seeing her again and watching her storyline evolve:
Iko!!! You're so lovely!
Now we come to Wolf and Scarlet. Holy chemistry batman! I laughed. I swooned. I swooned again. I may have squee'd.
First of all there is brooding yet broken Wolf who you just....you feel the same way as Scarlet about him. You're not sure you trust him, yet you do, and there's something endearing buried under all that...Wolfness.
:-) We know Wolf, we know.
Basically: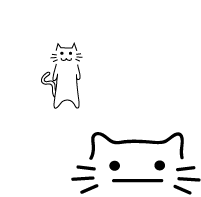 The end.
WAIT! Also, when I figured out how the Grandma/Wolf part of the story was going to be re-told in this book I actually dropped it in my lap and bellowed "OHHHHH THIS IS *CLEVER* !!!!"
Even Queen Levana got her first full chapter in this book and continued to be alarmingly evil in every way.
Seriously, she can.
Basically, I finished this book, mourned that it was over and was all:
Which it will--TWO MORE BOOKS! HOW WILL I LIVE??!
Followed by:
That's right, this book is Mary Poppins approved. What are you waiting for? Pre-order this immediately.
THE LUNAR QUEEN COMPELS YOU!
cough
I mean I compel you.
Sign into Goodreads to see if any of your friends have read Scarlet.
Sign In »
(showing 1-4 of 4)
(4 new)
date
newest »
back to top