Fifty Shades Freed (Fifty Shades, #3)
by
Welcome back, fellow masochists (or those of you who simply wish to forgo the hassle of reading this crap and opt for my poignant reviews instead). I wish I could say
Fifty Shades Freed
met my expectations, but...well, honestly, I don't know
what
the fuck that was. I don't know how I feel. I don't know what to think. The only thing I know is that, usually after finishing a trilogy/series, I'm lost. My brothers end up finding me curled up in a ball somewhere and they laugh and call me names, most of which are variations of "emo douchebag" because I'm all like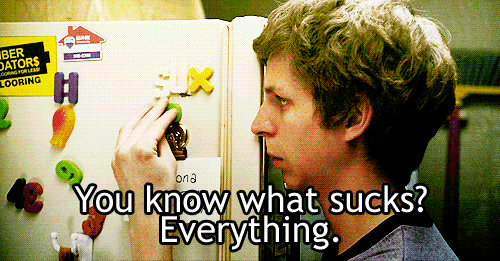 I can't help it. If I've invested enough of myself into a story to read more than one installment, it generally means I liked it (or at least something about it). That wasn't the case with the Fifty Shades trilogy. I went into
Fifty Shades of Grey
knowing full well I would probably hate it, and I wasn't wrong. In fact, I think I may have underestimated that book in terms of how thoroughly it would infuriate and disgust me. I considered not bothering with the next two installments because I was certain it wouldn't get any better. Look, I know there are those of you out there who think that it
did
get better, but I'm not talking about the story. I mean, I don't think that improved much, either, but the point I'm trying to make is that E.L. James is a terrible writer, technically
and
artistically. As a photographer, I can tell you that sucking ass in both categories won't get you far. Certain people will give you a certain amount of latitude one way or another, sure, but if your composition is badly placed, taken at the wrong time of day, crowded, confusing,
and
out of focus....well, you get it. Needless to say, I wasn't even halfway through
Fifty Shades Darker
before I started getting bored, but I trudged on and it wasn't much different from any of the boredom I've experienced before.
Then I started reading
Fifty Shades Freed
. I can honestly say that I had no idea this kind of feeling was even possible. I've never had a book so thoroughly turn off my desire to read before. Ever. I would read a page here and there, then turn my Kindle off and get online. There wouldn't be anything to do online, and I'd sit at my desk thinking,
Oh, I should really finish that book.
But then I'd just keep surfing the internet. To be honest, it was because every time I even thought about reaching for my Kindle, my brain did this:
Should we talk about what happened this time around? OK...
Honeymoon. Christian throwing a tantrum. Ana's boobs get marked up in retaliation. Drama, drama, drama, corn, some cheese, sex sex sex, lots of whining, Christian being clingy, Ana trying to assert her independence, blah blah blah. It reads exactly like the other two books with its repetitive wording and infuriating platitudes, and because of this it suffers far more than the other two books. I was
tired
of reading this shit. The only thing that set this one apart was the utter weirdness of a few of the scenes. Like Christian marking up Ana's titties after she goes topless on a beach in the south of France. Yeah, it happens. It's OK, though. Ana gives him a pass because, emotionally, he's stuck in adolescence and this apparently gives him free reign to do as he likes with impunity. She's angry at first, sure, but she forgives him. Even after he has the balls to say, "Well, you won't take your top off again."
The temerity of this character is astounding. E.L. James has managed to create one of the most blatantly antagonistic sociopaths I've ever seen, yet women everywhere are gobbling it up like he's the best thing since the vibrator.
But nothing really happens in the first 90% of the book except a lot of emotional manipulation. Ana and Christian play games with each other's emotions and genuinely seem to have absolutely no clue how to communicate with another human being. It's apparently all good, though, because the sex makes up for any lack of connection they should have. During one sex scene, Ana thinks, "We still have this. We'll always have this."
No. No, you won't. Your sex life may still be fulfilling after five, ten, or even fifteen years, but it won't be the same. No, not at all. And if you think for one second that sex can make up for the emotional connection and teamwork a marriage requires, you're going to be sorely disappointed. Look I'm all for fantasy, but I guess I like mine tinged with a little more reality than this. Friendship is the foundation of any solid relationship and without it, you're just bumpin' uglies until it gets boring.
Arguably the best thing to come out of this book was the fun I had discussing butt plugs with my sister-in-law. Yes, there's a sex scene involving a butt plug, and yes, it's both hilarious and disturbing, if for nothing else but E.L. James' refusal to use the word "ass". Ana is always using the words 'behind' and 'bottom' to describe her
other
"down
there
", and those words do not mesh well with the concept of an anal sex toy. I'm sorry, but hearing about how Christian inserted a butt plug into Ana's 'bottom' made me both uncomfortable
and
highly amused. Or when he inserted his finger into her 'behind'. No. No. As a child, you have a behind or a bottom, but once you hit about 14 or so, it's your butt or your ass. Only occasionally can the other words be used in reference to an older individual and be gotten away with.
As amusing as all that was, however, it didn't hold a candle to the things that went on when they were
finished
engaging in anal play. Just to be clear, I don't have anything against people who find pleasure in the anus. If that's your thing, hey, more power to ya. So I don't have a problem with the sex scenes themselves. However, when Christian fingered Ana's arsehole and then
didn't wash his hands
...yeah, I was a little grossed out. They're cuddling and everything afterward and on a constant loop in my head was, "poopy finger, poopy finger, poopy finger....poopy....finger!" My sister-in-law said she was wondering if he was going to make her suck on it like he did every other time he jammed his digits into her nether regions.
But wait, there's more!
Ana asks Christian who cleans the toys (this is after they've used the aforementioned butt plug), and he informs her it's either him, a submissive, or Mrs. Jones.
Mrs Jones, the
hired help
. She's a maid and a cook, for pete's sake, not a wall-washer at the local gentleman's club!
God
! Can you imagine taking a housekeeping job with some 27-year-old douche canoe and all you're expecting is dusting, vacuuming, cooking, etc., and the next thing you know, he's handing you a bowl of used butt plugs? Or maybe he's not even handing them to you, he just mentions that, hey, that mysterious almost-always-locked spare room could use a good cleaning and you walk in to discover not only that you've stumbled into some kind of David Lynchian porn den, but you've also been greeted by the smell of stale sex and
ass
. And oh!
There's a bowl of dirty butt plugs on the sideboard!
Mr. and Mrs. Brady may have had their freaky naughty time, but I highly doubt they were crass enough to make Alice clean up after it.
So then Ana takes the butt plug (yes, I'm still on this) and washes it off in the sink, then vaguely wonders if it needs to be sanitized somehow.
Well, Ana.........................................I'm thinking yes. Yes, it should probably be subjected to some sort of sanitation process. But that's just my opinion.
When you read scenes like that over the course of several books, it really comes as no surprise when you discover that Ana has missed several appointments with her gyno and apparently completely forgotten about her birth control shot. You know where this is going.
Christian is going to fuh
reeeaaak
.
"Christian, I'm pregnant."
And at first, Christian's all like
But then he's like
Then he storms out and is never heard from again.
Ha! I
wish
'cause that would've been the end of the story, and it would've served Ana right for being such an idiot. But alas, he returns and there's nothing to be done for it except more melodrama. He comes home drunk and Ana finds out he saw the "bitch troll" pedophile again, and she feels betrayed, and yadda yadda. So they fight, and this is the only time in any of the books that they actually have a raging screaming match, and yeah, it was about fucking time it happened, but even the fight is tainted by Ana's ridiculous assertions that if Christian touches her, he'll just get his way because her traitorous body will succumb to him.
Christian spends the entire book shutting Ana up with his penis.
So then the ending happens. Something about Hyde kidnapping Christian's sister or some shit. Ana saves the day. Funny. No, it really is 'cause the girl's dumb.
Well, when that shit's all over, we get this weird-ass epilogue wherein Ana asserts that she thinks their in-utero daughter "likes sex already" because she's dancing around in her mother's womb after...sex? I guess so. There isn't a sex scene, so not only is this remark
fucking weird
, it's also oddly misplaced. Then Christian sucks popsicle off of his son's fingers.
What is
with
E.L. James and the finger sucking?
(Edit: A commenter brought to my attention the fact that there is indeed a sex scene before the aforementioned conversation about the baby liking sex. So I double-checked and yes, there
is
a sex scene right before. The confusion came about as the direct result of E.L. James's inability to maintain a coherent timeline.)
After the epilogue, there's even
more
pointless drivel. The beginning of
Fifty Shades of Grey
from Christian's perspective!
I can hear the collective squee and the panties droppin' and it kinda makes me wanna choke a bitch. But that's not even the worst of it. No, the worst is that it ends right as Christian's leaving the hardware store, and as the narrative comes to a close, the reader is treated to this:
"That's all...for now."
Please, someone break her hands. Do it quickly. Might as well cut out her tongue, as well, so she won't be able to dictate her nonsense.
I think one of the best blurbs for this series (and this installment in particular) would have to be something my older sister said about it after I told her there's a Happily Ever After ending:
"Maybe she'll write a fourth book in which, after having three kids, being isolated, and losing her job, he finally hits her and the cops get called, leading to his arrest. She leaves and takes half his damn shit plus child support. 'Cuz after three kids and several years, "down there" ain't gonna drip at the sight of him anymore."
-
Kimberly Brown
Harsh and bitter? Perhaps, but that's reality. Like I said before, it would be nice if we could have a little realistic fantasy (it's
not
an oxymoron if you know what I'm talking about). Christian Grey might have been a desirable character if....well, if he weren't Christian Grey.
To be honest, I'm disappointed in this review. I just can't seem to muster the same amount of enthusiasm as before. Or even come close. All I know is that I tried to write this twice before, but lost it both times due to computer error, and I took that as a sign that I shouldn't over-think it. Maybe this review reflects the book itself; haphazard and drained. Whatever the case, the only burst of energy I got during this book was at the end. When it was done. It should come as no surprise that my reaction when finishing this book was
not
despondent depression. Far from it. When I read that last word and knew I could finally, finally walk away from this trilogy, I felt...
Yeah. It was
that
good. It was "taking a giant crap after being constipated for a week" good. Or "getting laid for the first time in years" good.
I.felt.so.free.
The only thing good about the Fifty Shades trilogy is the moment it finally ends.
Word Count:
"Oh my" - 52
"Crap" - 46
"Jeez" - 58
"Holy (shit/fuck/crap/hell/cow/moses)" – 108
"Whoa" - 14
"Gasp" - 60
"Gasps" - 15
"Sharp Intake of Breath" - 2
"Murmur" - 115
"Murmurs" - 186
"Whisper" - 194
"Whispers" - 190
"Mutter" - 88
"Mutters" - 38
"Fifty" - 67
"Lip" - 51
"Inner goddess" - 33
"Subconscious" - 48
Click here for my review of Fifty Shades of Grey
Click here for my review of Fifty Shades Darker
Click here for my review of the Fifty Shades Trilogy
Sign into Goodreads to see if any of your friends have read Fifty Shades Freed.
Sign In »
Reading Progress
June 8, 2012 –
36.0%
"It's good that Christian at least feels some remorse when he physically abuses Ana. I'm sure it will be a great comfort to her family when they come to identify her corpse."
(Kindle Edition)
June 9, 2012 –
50.0%
"Everything from 37% to roughly 44% is nothing but rage-inducement. \n \n This is fanfic, right? So E.L. James could have done anything with it. Why doesn't Dwayne Johnson bust on up into their apartment, perform the back breaker on Ana, then fly off the top rope (sofa?) and land a flying punch through Christian's skull? THAT would be entertaining."
(Kindle Edition)
June 12, 2012 –
Finished Reading