Scarlet (The Lunar Chronicles, #2)
by
Marissa Meyer
(Goodreads Author)
It's no secret that Scarlet has been one of my most anticipated reads of 2013. I bought this book the week it came out but forced myself to wait because I didn't want to plow through and then face the agonizing one-year wait before the next one.
Ye-ah
, that self-imposed wait did not last very long.
And now that I've finished Scarlet, you have NO idea how hard it is to write a coherent review when all I want to do is flail my arms and fangirl about the book. Because it. Was. SO GOOD.
In this retelling, Scarlet (our Little Red) has traded in her cape for a functional hoodie and her basket of goodies for a handgun. One that she is not afraid to use, I might add. This girl is a badass. Not to mention tough and stubbornly determined to find her grandmother, no matter who stood in her way. I found Scarlet to be a tougher and more fiery character than Cinder, and I ended up loving her just as much.
And speaking of characters that I loved....
Wolf. What can I say about Wolf except
He's definitely not what I expected of a Big Bad Wolf incarnation. He was... shy. And quiet. And very adorable. Well. When he's not being an deadly fighter, that is. I can't even find the words to describe him because all I want to do when I think about Wolf is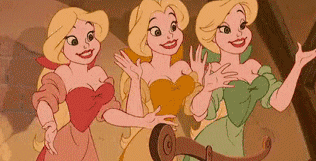 (I'd highly recommend reading The Queen's Army before Scarlet because it's going to provide a lot more back story to Wolf's character.)
Cinder's adventure is continued in this book and picks up soon after her arrest at the Ball. She manages to escape from prison with the unlikely help from a fellow prisoner, one Captain Carswell Thorne, flirtatious American pilot. Thorne provided some much appreciated comic relief throughout the story, and OH MY GOODNESS, you guys, I am 95% sure he's going to be the love interest featured in the next book! *Squeeeeeee* >___<
As interested as I was by Scarlet's story, I was still riveted by Cinder's journey. Slowly, she is learning more about her newfound Lunar abilities as well as her past as Princess Selene. Watching Cinder explore her Lunar gift was awesome. I think it'll only be a matter of time before Queen Levana should head for the hills! (Fingers crossed).
Kai's story is continued in
Scarlet
as well. There weren't enough scenes to fully satisfy my Kai cravings (and don't even get me started on how much it's killing me that he and Cinder are not together!!) but there were just enough moments to keep me appeased. In the glimpses throughout the book, you see him dealing with Levana in the aftermath of Cinder's escape and his own conflicting emotions towards New Beijing's best mechanic.... Basically the result is me in utter agony. Especially after the way this book ended! I swear, Marissa Meyer is trying to kill me with all this anxiety. Evil, evil author.....(just kidding).
If I thought
Cinder
was amazing (and it totally was) then Scarlet basically took all the awesomesauce that went into writing Cinder and upped the ante, taking readers from the sweet innocence of the Cinderella retelling to a darker and grittier story. The alternating POVs in this story were handled incredibly well, and the way in which Cinder and Scarlet's arcs converged was flawless. Like a puzzle whose pieces are falling together, I'm starting to see how all these different fairytales are interconnected and it is kind of blowing my mind!
All in all:
For the love of all that is good and holy,
I need that next book
. I can't even bring myself to start another book because my head is still wrapped up in the world of the Lunar Chronicles, yearning to know what happens next. MARISSA MEYER, WHAT HAVE YOU DONE TO ME?
Sign into Goodreads to see if any of your friends have read Scarlet.
Sign In »
03/04/2013
page 7
1.0%
"This book has been sitting on my shelf for a couple of weeks since I was scared of reading it in one sitting and waiting a year for the next book..... but I CAN'T WAIT ANYMORE. I'M FINALLY STARTING IT.

: "
03/04/2013
page 110
24.0%
"Right now I don't know who I love more: Scarlet or Cinder....actually my favorite might be Captain Thorne"
02/05/2016
marked as:
read
(showing 1-8 of 8)
(8 new)
date
newest »
back to top