Once & Future (Once & Future, #1)
by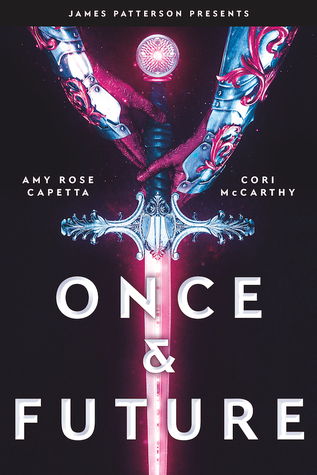 Young Adult - Fantasy/Sci-Fi - Retelling 
Thank you to the publisher for sending me an ARC of Once & Future in exchange for an honest review. 
I ended up DNF'ing this book. I tried so hard to finish it, but I just couldn't.
The pacing for this book is so bad. It was like a roller coaster of stop and go, and I never knew where the authors would take the story, and sometimes that's a good thing, but this book was poorly executed.
I honestly didn't like the characters, they were forced and we never really got to know them.
Morgan | Mashleas Reads
 states it perfectly: "The romance is extremely forced and written in a way that left me cringing. It did not feel realistic or genuine at all."
It was kind of like the authors were trying to do too many things with this retelling of Merlin & Arthur, and in doing so, none of it was successful.
I wanted to DNF this book but I kind of forced myself to continue reading it to see if it would get any better,
spoiler
, it didn't. I ended up putting it down with around 100 pages left to go.
I was excited for this book, but all in all it wasn't the book for me.
I will not be continuing this series.
Thanks so much for stopping by and reading this book review!
xoxo
Sarah June
Sign into Goodreads to see if any of your friends have read Once & Future.
Sign In »
No comments have been added yet.