A Little Bit like Desire (South Haven, #2)
by

✰ Bianca ✰ BJ's Book Blog ✰
's review
bookshelves:
5-stars
,
adorable
,
amazing-series
,
beautiful
,
can-t-wait-for-the-next-book
,
cute
,
first-reads
,
great-series
,
m-m-romance
,
mm
,
music
,
pretty-cover
,
rockstarromance
,
sexy
,
sweet
,
tattoos
We remember tattoo artist Shaw from the first book. He's best friends with the Lucas and Bash.
And he's a happily single serial dater. He never really had a boyfriend. He loves his life and as long as no one looks like a forever kind of guy he can keep on living the way he's always lived.
And then this guy arrives on the island. A guy he has some kind of one-night stand with. But it's not really a gay guy. And he's also kind of a rock star hiding on the island while finding out what to do with his life after leaving his band.
Both Shaw and Trent first think the other guy is straight. But once they realize the truth it's not all insta happy endish. But we'll get there!
WHAT WiLL HAPPEN WiTH SHAW & TRENT???
WiLL THERE BE A HAPPILY EVER AFTER???
READ THE BOOK TO FiND OUT! ☺

═══════════════════════




LOOOVED IT!!
You start reading and BAM! You're right in the middle of a very kinky and sexy and mysterious one-night stand kind of thing. Grrrrr!
And after that night it only gets better.
We have all those funny and adorable and frustrating and sexy moments.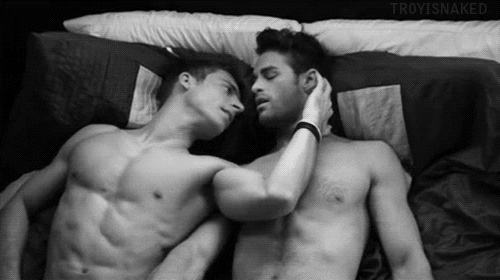 Shaw and Trent don't know that they're attracted to each other. Bash has to throw them together every chance he gets. Adorable!
But once all the gay truths are out in the open .... Let the fun times begin.
I adored this book!
It's so very erotic and sweet and sad and fun.
I loved every word of it!!!!
Now I NEED to see what Bash will have to tell us in the 3rd book:
A little bit like Heaven - coming soon! GIMMMMMEEEEEE! He's gonna have such an amazing story - I can't wait to see who he'll get to fall for.
Oh ... a tiny little thing I didn't love-love. Shaw's hair. Uhm.... wasn't the frosted tips look an early nineties never-to-be-done-again thing?? I just can't imagine a hot guy having that kind of hair today. Ew! ☺
And I also kind of wanted a bit more family. Trent says how amazing his parents are, but we don't meet them. And Shaw's mom. I wanted a bit more - maybe even have his real dad appear. Something a tiny little bit more family momentish. BUT ... it was totally amazing the way it was!
A LITTLE BIT LIKE DESIRE was such an adorable & sexy tattooey-rock star romance! Hurry to your nearest amazon for your own #Shox!!! These two are MINE! ☺
♡
♡
♡
♡
Sign into Goodreads to see if any of your friends have read A Little Bit like Desire.
Sign In »
No comments have been added yet.