The Cuckoo's Calling (Cormoran Strike, #1)
by
A hard-boiled mystery about the suspicious suicide of a supermodel and a curmudgeon as the detective, who delves into the underground world of the rich and famous, daring to ask questions no one else will.
This was the first book I've ever...wait for it... read by
J.K. Rowling
writing under a pseudonym as Robert Galbraith. Is this your reaction?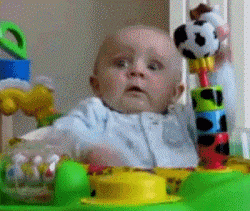 Or perhaps, you look a little like this?
I know, I know.. where have I been? How could I have never read the Harry Potter series? To be honest, the hell if I know. In addition, I'm not a big fan of the fantasy genre. Anyhow, this was a great mystery novel. Although I figured out the "who-dunnit," I didn't wholly realize who it was until the last 50 pages. There were some parts that lagged, but overall, the writing was very well executed. I can't compare it to any of her other books, as I haven't read them, but if you like mysteries, especially those of the "who-dunnit" variety, you will definitely eat this one up.
Sign into Goodreads to see if any of your friends have read The Cuckoo's Calling.
Sign In »
Reading Progress
May 16, 2018 –
Started Reading
May 16, 2018 –
Finished Reading
Showing 1-50 of 88
(88 new)