Ready Player One (Ready Player One, #1)
by
Gabby
's review
bookshelves:
4-star-books
,
favorites
,
has-a-movie
,
liked-it
,
love-the-concept
,
own
,
over-freaking-hyped
,
read-in-2018
,
reviewed
,
sci-fi
,
romance
,
romantic-suspense
,
young-adult
Recommended for:
fans of 80's, fans of video games
This book was a lot of fun to read.
I'm not the biggest fan of sci-fi, but I really did enjoy this story. This book follows a teenager named Wade Watts who lives in 2044 in Oklahoma, in a trailer park. In this future, everyone is obsessed with this virtual reality video game called the OASIS, and it's a part of their daily lives. Poverty has taken over the country, so most people chose to spend their time in this fake reality - the OASIS. James Halliday, the creator of the OASIS died of cancer, and he left behind an easter egg in the game. Anyone who finds this easter egg will inherit his entire fortue - 24o billion dollars. This makes for a pretty interesting premise because now everyone in the world has an opportunity to find this easter egg and become a multi-billionaire in a world that is so poor.
There were things I loved about this book and some things I didn't care for. Let's start with the positives.
Things I Liked:1) I loved the world building.
I think this is a scary and accurate depiction of what our world could be like if we continue down the path we are currently on. The whole idea of RV's stacked in trailer parks is a crazy idea but I could see something like that happening in the future. Also, the whole idea of a virtual reality like the OASIS seems very possible, in some ways I feel like we are getting closer and closer to something liken that everyday.
2) I loved the 80's references.
I will admit it did get a little
heavy
on the 80's references but I didn't mind it. I actually thought it was really cool how 80;s movies played a part in all the gates and helping them discover where the egg is.
3) It's hard to put this book down.
Once you get past the info-dumping at the beginning, this story really takes off and it's a lot of fun following Wade through the OASIS trying to find the clues.
4) The whole idea of the OASIS is so dope.
This book was fun for me to read because I was fascinated by the OASIS and the mere idea of it. Your avatar is anonymous, you give it any name you want and no one knows who you really are. You can change your gender, age, hair color, skin color, eye color, you don't even have to be human! You can be anything. And you can fly spaceships in OASIS and there are thousands of planets to explore. It just sounds so dope.
5) The friendships.
I loved the friendship between Wade and Artemis, and Wade and Aech, and even with Shato and Daito. I love when people ban together to stop forces of evil.
6) The villain had a realistic purpose and I could understand their side of it.
In any story where there is a villain it's important to me that the villain has a believable purpose for going against the protagonist, and here they definitely do.
Now for
Things I Didn't Like:1) The romance felt a little cliche at times.
I really actually liked the romance that formed between our main character and one of the girls, but at times it did feel a little cliche.
2) The info dumping.
There are several times in this book where the story will pause and we will get pages of info dumping about what's happened. I don't necessarily know if this could have been avoided entirely, because I understand the author needed to explain things, but at the same time I kind of got bored of it and found myself skimming the info dumping parts.
3) The ending felt very abrupt and I needed more closure.
(view spoiler)
[Like okay so Wade wins the entire game (not surprised at all) and now he is with Artemis again and that's it. I would have liked an epilogue to see some kind of future to see if they're still together and how the media handled everything and what they did with the money or just something more conclusive than what it did. (hide spoiler)]
I'm not a huge lover of video games, but I still found this book to be highly entertaining. I can't wait to see how this gets adapted into a film!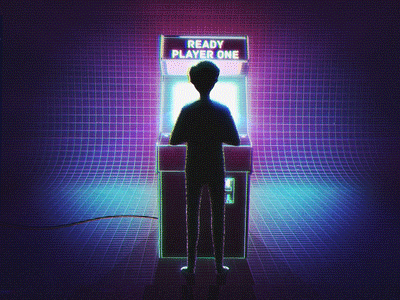 ["br"]>["br"]>["br"]>["br"]>["br"]>["br"]>["br"]>["br"]>["br"]>["br"]>["br"]>["br"]>["br"]>["br"]>["br"]>["br"]>["br"]>
Sign into Goodreads to see if any of your friends have read Ready Player One.
Sign In »
Reading Progress
February 17, 2018 –
Started Reading
February 17, 2018 – Shelved
February 18, 2018 – Shelved as:
liked-it
February 18, 2018 – Shelved as:
own
February 18, 2018 – Shelved as:
reviewed
February 18, 2018 – Shelved as:
romance
February 18, 2018 – Shelved as:
sci-fi
February 18, 2018 –
Finished Reading
date
newest »
back to top