Wonder Woman: Warbringer (DC Icons, #1)
by
Genre:
YA Fantasy
Type:
Standalone Book 1 of 4 from DC Icons series
POV:
Third Person
Rating:
Growing up, all Diana ever wanted was to belong. As an Amazon princess, she had expectations to meet and it didn't help when her own people questioned her position. But when she came across a mortal, she knew she could be heading to a path of glory not realizing how it would change her future.
Alia Keralis wanted to break free. Coming from a family of scientists, she understood the glory in pursuing knowledge. However, she would have never thought it would lead her into a battle of survival.
I have to admit, Wonder Woman is not a superhero I'm familiar with. Still I was looking forward to this one and glad to say I really enjoyed it.
She did want glory. She did want the chance to prove herself, not just with a footrace or a wrestling match, but with a hero's quest, something no one could deny.
This book is about Diana before she found her calling. I like how she was an underdog and had insecurities. And while she wanted personal glory, she wasn't selfish when it involved others.
Warbringer. Procatalysia. Haptandra. They could call it whatever they wanted. It sounded a lot like monster.
Alia was smart and rational. She had a tremendous burden resting on her shoulders, yet she didn't falter.
What I love the most about this book is how it emphasized on female empowerment. All female characters were strong/smart/independent or a combination of it. There's also the unwavering friendship no matter what the circumstances.
She swept the lasso out, hooked it over a boulder, snapped it tight, and swung the rock. Pinon tried to dart away, but the boulder caught the edge of her shoulder, knocking her backward with bone-shattering force.
The book started really good and I love Greek mythology so I enjoyed that element in the story. The middle part felt a little slow at time, but it quickly picked up once the ass kicking actions started. And I love that one literal ass kicking scene lol!
Wonder Woman: Warbringer is a story of a group of friends rising up to the occasion in a journey of finding their rightful place. It would appeal to readers who enjoy action packed fantasy.
Books in the series:
💥 🔥 💥 . . . (F)BR With Loyda & Mer . . . 💥 🔥 💥For more reviews/reveals/giveaways visit:
Sign into Goodreads to see if any of your friends have read Wonder Woman.
Sign In »
Reading Progress
October 5, 2017 –
Started Reading
October 5, 2017 – Shelved
October 5, 2017 –
1.0%
".
💥 🔥 💥 . . . (F)BR With Loyda & Mer . . . 💥 🔥 💥

Time for an ass kicking!
I'll be the boobylicious one in the middle lol!


"
October 5, 2017 –
14.0%
" She could not risk it. She could not risk her sisters' lives for the sake of a girl she barely knew.


"
October 5, 2017 –
27.0%
" "And why are they so bug-eyed and slack-jawed? Is that an affliction of all males or particular to the men of your city?"
Alia burst out laughing. "That's what happens when a six-foot supermodel walks down the street in a few scraps of leather."


"
October 6, 2017 –
42.0%
" You dance differently when you know you won't live forever. Was this what Maeve had meant? There was something reckless in mortal joy that Diana liked. It held nothing back.


"
October 6, 2017 –
54.0%
" From behind her she heard an earsplitting explosion and felt a wave of heat at her back. It thrust her forward through the air. Her arms pinwheeled at her sides as the force of the bomb carried her too far too fast.


"
October 6, 2017 –
70.0%
" Now Diana understood what this war would really mean, and the terrible truth of the vow she'd made settled over her.


"
October 7, 2017 –
83.0%
" It felt comforting in her hands, and yet so slight. Was this a weapon with which to face the gods? She let it swing farther and farther in a widening loop, then unleashed it with a snap.


"
October 7, 2017 –
87.0%
" With no need for my steel cage with him, I let my tears fall, and I cry because that's all I ever wanted . . . for my life to disappear. I want to forget all the horror.


"
October 7, 2017 –
100.0%
" For a moment, she took a new shape, one Diana had never seen before—a soldier standing with sword and shield in hand. She wore an armored breastplate, a lasso at her hip. Her blue eyes flashed, her black hair lifted by a distant wind.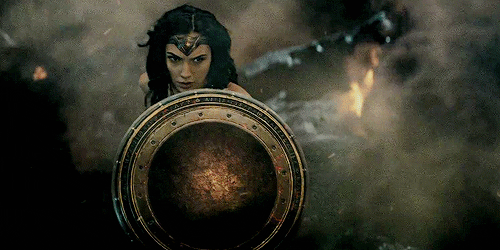 "
October 9, 2017 –
Finished Reading
Showing 1-11 of 11
(11 new)
date
newest »
back to top