By Fairy Means or Foul (Starfig Investigations, #1)
by
SheReadsALot
's review
bookshelves:
fantasy
,
elf-fae
,
m-m-romance
,
unicorns-mythical-beasts-and-such
,
review-books
,
part-of-a-series
,
damaged-hero
,
witch
,
erotic
,
biter-sexy
,
gentle-giant
,
hard-knock-life
,
suspense
,
my-2017-faves
,
funny
,
zombies
,
paranormal
,
shifter
,
demon
Recommended for:
Thick as Thieves, Lord Mouse fans
Big ol' unicorn gangbang review with Lost in a Book, R *A Reader Obsessed*, JL, Sara and Lori4.25 HEARTS
--

"Twig, you're so much more. Who'd want to be average when you can be extraordinary?"
What can I say that hasn't been said already by fantasy road trip romance,
By Fairy Means or Foul
?
It was epic and definitely went big, instead of mailing it in, in the fantastical department!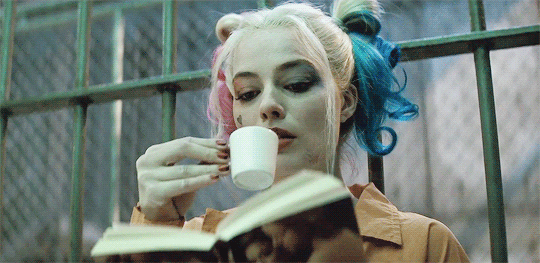 Hm, indeed.
It's been a pleasure reading Meghan Maslow's work. I can attest to reading everything published by her so far, and while her contemporary is good, her paranormal/fantasy is where it's at!
Go on, read the blurb. I'll wait.
It's like a unicorn enhanced acid trip, right? (Those are highly potent, so I hear on the pony paddock.)
In what I hope is first of more to come,
By Fairy Means or Foul
is Twig Starfig's book. It's told in his 1st POV. Twig is an outcast of both of his parent's communities being as he's not a full blood fairy or dragon. he can't fly, he can't shift and he's puny in dragon standards. He's left the self destructive portion of his life in the past (mostly), and settled down into a job that uses one of his dormant skills, finding treasure or others' missing items. His dragon intuitiveness makes him one of the best trackers.
Which brings an evil unicorn in need of Twig's services. I know, I know, unicorns can't be evil, they're awesome. I agree.
But sometimes what is perceived as beautiful and perfect, can be wicked and evil. And the unicorn reeks of self importance and rudeness. Plus, he's sadistic, all under a polished veneer. And this unicorn foolishly lost his unicorn horn and needs Twig to find it. And he transfers his human indentured servant and bed slave, Quinn Broomsparkle, to Twig temporarily as payment.
Something Twig doesn't want as he has no idea what to do with a mouthy human and certainly doesn't want to bed to the handsome human, no matter if he finds Quinn attractive. Because Twig knows it's wrong while Quinn is still under a contract. In fact, Twig remarks multiple times about not being cool with the indentured servant business.
Potential trigger warning: mentions of off page rape.

"I'm not planning to use your services if that's what you're worried about. I like my bed partners willing."
"But... I am willing..." His voice trailed off. He studied my face as if to gauge whether I told the truth or not.
"You're not. Not really."
At the beginning of the story, Quinn and Twig are put together because of this unicorn horn job and Twig just wants to get the entire business over with. He doesn't understand human, doesn't want to. He likes life as it is.
But Quinn gets under his skin and it blossoms as the story progresses. The pair travel all around the world of Elder (where Twig lives) and it was like a shopping list of (mostly) my fave paranormal things:
pirate
demons
magical villains
hipster giants
know-it-all fairies
DRAGON!
I actually fell for a ghost. Me! But Pie is adorbz. Dare you not to think he's cute too.
And there is more magical beings on the list: zombies, orcs, hell, even a mermaid showed up. The world is a modern feel with magic shopping list. It's a lot and I think true fantasy fans would get the most of out of this tale. And while I enjoyed just about all of the characters, I think the world building and the magical meld is the strongest thing about the tale. Road trips force the protagonists together but the chemistry between them and how the author handles it makes or breaks road trip stories for me. I'll admit it's not a fave of mine, but Quinn and Twig gave good snark and cute. They made me enjoy the journey.
And the sexual tension? It's very good. Twig has morals though he might to act like a grumpy, tough guy. He cares. And he's dedicated to Quinn. Even when he doesn't want to be. His like of Quinn heats up the attraction. And when the final line is crossed and both men succumb? (with Quinn taking the final step freely)

"I would breed him so good, so hard, there'd be no doubt it wasn't him."
Breed is still a buzz word of mine. Me-ow!
For the smutsters, there is sex. Not a lot because an epic journey can't be solved if the MC's are humping on each other every page. Plus, the servant deal is a major point of contention for Twig.
There is a lot of fun, the secondary characters a delight (even Twig's pushy dad). I think there were parts here and there that could have had some words shaved off. The pace was good but there were a few lulls, very few. By Fairy ends with a strong HFN/HEA vibe. The guys struggle with a few things about the enormity of life decisions. Cryptic? Maybe but you'd really need to read this to get the enormity of the situation for the two guys.
I like the way it ended a lot. Because the possibility for more is so clear. And with the final set of characters together, it should be magical. I can't wait to read more from Maslow and this world.
I'm enchanted.
If you're on the fence, read a sample and see if this brand of snarky, silly, magical fun is a good fit!
Recommended to fans of Thick as Thieves, fans of campy fantasy fun, unique shifter hybrids and magic.
A copy provided for an honest review.
Sign into Goodreads to see if any of your friends have read By Fairy Means or Foul.
Sign In »
Reading Progress
August 17, 2017 – Shelved
September 23, 2017 –
Started Reading
September 23, 2017 –
2.0%
"Finally made it to the unicorn pow wow. And I'm super jazzed.




Because duh, it's unicorns and Maslow!"
September 24, 2017 –
33.0%
"Pirates!!!! Avast Motherfucker!!

*waves sword*"
September 24, 2017 –
54.0%
"


BURN IT ALL!"
September 25, 2017 –
64.0%
"Argh! You deserve a smack in the back of the head for that!

Can I borrow one of giant's hand for this?"
September 27, 2017 –
80.0%
"Epic story is epic. I'm kinda not wanting this to end now. I love this world."
September 27, 2017 –
Finished Reading
date
newest »
back to top