Hades (Halo, #2)
by
John Egbert
's review
bookshelves:
annoyed-after-reading
,
author-steaming-mug-of-stfu
,
boooored
,
for-the-motherfucking-lulz
,
i-wish-i-hadn-t-read-this
,
no-just-no
,
nothing-special
,
omfg-it-s-a-series
,
pure-bullshit-from-concentrate
,
what-the-everlonging-fuck
,
why-did-i-read-this
,
wtf-dude
,
wtf-is-this
Recommended to John by:
...this was my own fault...
Recommended for:
*starts to cry* I-I wouldn't recommend this book to the person that SLAUGHTERED MY FAMILY
Before reading Hades
How can you
trick
someone into getting on a motorcycle? Either they get on, or they don't get on. Motorcycles aren't like cars. And what does angel Bethany want with a motorcycle anyway? SHE CAN FLY. Or, I'm assuming she can. Who knows, maybe Halo angels are just so lame they can't even use their wings to fly. *shudders from pure lameness*
Perhaps the conversation went something like this:
Jake: Hey Bethany. Why don't you get
in my van
on my motorcycle? I'll give you a lift...
Bethany: No wayz.
Jake: I have...teh ice cream! And kitties!
Bethany: OOOOHHHH KITTIES! *hops on*
Jake: MUAHAHA SILLY GIRL THERE ARE NO KITTIES
Bethany: NOOOOO I HAZ BEEN TRICKED!
Jake: MUAHAHHAHAHAHAHAAAAA
Now that would make a lot of sense.
10/11
I AM GOING TO DO IT.
I'm going to rip this to shreds with my razor teeth! It sounds so bad I cannot resist.
After reading Hades
Warning: There will be heaps of Allie-bashing, lots of cap rage, Hades-bashing, swearing, and SWEARING, and DID I MENTION SWEARING?!
Glossary: Because I won't explain who all of the characters are inbetween my rage outs.
Bethie: The main character.
Xavier: Her boring ass boyfriend.
Jake Thorn: The Prince of Hell
......fuck....
.....FUUUUUCCCCCKKKKKKK.....
You notice how light and joking I was in my pre-review? Notice how I was poking fun at Bethie, notice how I was...
happy
....?
I WILL NEVER BE THE SAME WAY AGAIN.
I had originally planned on writing a nice, coherent, numerical list of this book's fails but THAT IS IMPOSSIBLE. I WOULD BE HERE ALL FREAKING DAY.
So, I will rant on random things.
Firstly,
ADORNETTO NEEDS TO SHUT. THE FUCK. UP.
Not a single freaking page goes by without this neurotic, raging bitch (insult courtesy of Hana Joy :D) preaching to us about something or the other. IT'S DISGUSTING. Here are a few examples of Allie dearest reaching her nasty author hand through the pages:
1. Her version of Hell
The way she describes the inhabitants of hell. Miniskirts, piercings, chains, black nail polish -- generally goth. We all know how Christian and conservative Allie dearest is, so it's obvious why she would choose to condemn these things -- they just don't fit in with her idea of what's "moral" and "perfect".
2. Her lectures on sex
While reading that entire part I was essentially doing this:
I WANTED TO STAB MY EYES OUT WITH A FUCKING PEN.
In Kira's review, which is much, much better than this one and you should in fact read it NOW
she says "
Bethany is viciously devoid of conscience. You'd think she'd be "all soul", as Xavier once said (BARF) but in fact she's completely devoid of any kind of compassion. She lets Jake bleed to death and die before her, she leaves her friends to rot in Hell (literally), and she says, and I quote, "The purpose of sex is to create life."

Oh, really? You want me to go there? Seriously?

FUCK THIS MOTHERFUCKING SHIT YOU BIG PIECE OF FESTERING MONKEY VOMIT.

This is a disgraceful thing to write. Who the fuck green-lighted this shit? Someone needs to be fired for this. I'm not even kidding.

About two weeks ago, a teenager who featured on Youtube as a strong advocate of the It Gets Better campaign killed himself. He had been so viciously bullied and isolated because of his sexuality that he chose to end his own life. He was so utterly crushed by misery, shame and loneliness that he committed suicide. He was little more than a child.

This comment advertising sex as a way to procreate and nothing more is a violation of so many people's beliefs and lifestyles, and is a complete disgrace in every sense of the word. Not only does it completely exclude homosexuality and indirectly condemn it, but it also reverts back to this fabricated idea of "virginity". Basically, it is a vicious way to shame and attack gay and lesbian peoples for the way that they choose to express perfectly natural attraction to the people they romantically love and/or date. Homosexuality is in no way wrong, it is in no way unnatural, and condemning it borders on a violation of human rights. Quebec had it down when they said, "The state has no place in the bedrooms of the nation."

Amen, sista's.
"
That was a rather long quote, I know, but it all needed to be there because I don't know any other way to express my annoyance. Sure, I had read Kira's review before throwing myself into the pit of shit and vomit that is alternatively known as Hades, but reading the quote in context provided with everything else makes me want to
hurt myself
.
IT'S JUST SO TERRIBLE.
That, that doesn't even
count
the heaps of other sex lecturing. JAKE EVEN REFERS TO BETHIES "VIRGINITY" AS HER "VIRTUE". It's fucking disgusting how obsessed Allie is with this.
SHE PUTS A SHAME TO ALL TEENAGERS EVERYWHERE. (She is a teenager still, right? I don't know and I don't give a fuck. SHE PUTS A SHAME TO EVERYONE CONSIDERED NOT AN ADULT YET EVERYWHERE.)
In short, if I ever met Allie in real life and caught her trying to give anyone a fucking lecture on fucking ANYTHING, I'd do this:
And this: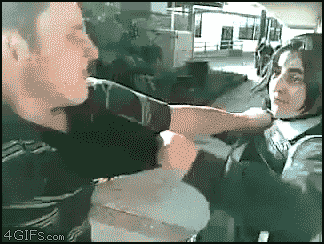 And
this
:
Gross little bitch...
What else did I want to rant about?
Oh ya. BETHIE DEAREST.
Bethany is so
stupid
. So yeah, I have an ebook copy of this utter vomit and shit, right? That's bad, very bad, because as long as we're in Bethie's head every few sentences I have the urge to throw the book against the wall with a satisfying thud. BUT IT'S AN EBOOK COPY. So I would end up doing this:
Which would suck, seeing as how I only gots one computer, yeah.
Her stupidity was
SO OFFENSIVE
that it made me literally burst out into tears.
Well...maybe not literally -- BUT I WAS FUCKING CLOSE.
And the worst part, because Bethie is Adornetto's self insert (anyone try to argue with me over this in the comments and I will cuss you the fuck out, just so you know) WE GET DOUBLE THE PREACHING. So while Adornetto is using her author powers to preach through the story, BETHIE IS FUCKING PREACHING IN THE STORY.
IT MADE ME WANT TO THROW THINGS.
Not to mention that Bethie is A FUCKING MARY SUE.
Even when she goes to Hell, EVEN IN HELL THEY LIKE HER. EVERYBODY LIKES HER. THE PRINCE OF THE FUCKING HELL WANTS HER. IS THERE ONE PERSON THAT DOESN'T LIKE BETHANY WHO ISN'T DEMONIZED?!?!?!?! AND WE WILL FUCKING TALK ABOUT ASIA LATER.
FUCK THAT. WE'LL TALK ABOUT HER RIGHT NOW BEFORE I FUCKING FORGET OR SOMETHING WITH MY GOLDFISH BRAIN, BECAUSE READING HADES HAS FUCKING BRAIN DAMAGED ME WITH IT'S TERRIBLE, HORRIBLE AWFULNESS AND I CAN BARELY REMEMBER MY FUCKING NAME ANYMORE BECAUSE IT IS
JUST THAT BAD
.
FUUUUUUUUUUUUUUUUUUCCCCCCCCCKKKKKKKK THIISSSSSSS BOOOOOOOKKKKKKKKKKKEEEEEEHHHHHHAAAAAAAAOOOOUUUUSSSSSHHOIFWIAIOFNWA
So, to talk about Asia.
Asia is Jake's bitch, basically. Also, from what I remember she is one of the only minorities in the book, if not
the
only minority, someone can correct me on this if they want.
How is she portrayed?
Well, even though she's supposed to be a snide, evil bitch (and slut?) I actually quite liked her. She acknowledged Bethany as the stupid, disgusting, waste of space she was, see this quote:
I gave the woman a closer look and remembered her instantly as the tattooed barmaid from Pride. It would have been hard to forget the annihilating look she'd given me then. She gave me a fleeting glance this time as if my presence were too immaterial to take up any more of her time.
I agree with her. Bethany doesn't deserve anyone's time. She's a gross, nasty, hideous waste of space and she should be burned on the stake, cut in half, erased from this universe forever and ever. AMEN.
Also, Asia gets jealous that Jake likes Bethany more than her. IT'S A VALID COMPLAINT. So you're the head bitch of hell with your psuedo boyfriend, and then some sniveling preachy brat shows up and snatches your honey's attention. Oh, yeah, tell me
you
wouldn't be bitter. There's also the added fact THAT THEY ARE ALL FUCKING DEMONS SO DUHHHH.
But we're supposed to see Asia as a jealous, evil, bitch. That's great. That's just fucking fantastic. Way to go Allie dear. But you wanna know something? I'd rather be represented by an Asia FIVE THOUSAND FUCKING TIMES OVER than be represented by a Bethie, which is
the worse fucking insult ever, in the history of time and space, the worst thing in the whole world ever to exist AMEN.
Anything else?
Well, there's Xavier. He annoys the shit out of me. And Jake is an asshole, as well as a rapist, but once again he's a demon so you know. That's rather accurate for Jake.
Oh! How could I forget?
Xavier and Bethie's relationship.
THAT IS THE MOST...I DON'T EVEN HAVE WORDS FOR IT. It is co-dependent, unhealthy, obsessive, weird, and just NO. NO JUST NO.
How can you write something like this and portray it as being positive? HOW? HOW CAN YOU POSSIBLY PORTRAY THIS AS NORMAL, EVEN A GOOD THING? Another reason why I want to punch Allie in the face, or at least strap her into a chair and viciously re-educate her.
PLEASE GOD. IF YOU DO EXIST, WHICH I DON'T REALLY THINK YOU DO BUT
IF YOU DO
, PLEASE, DO NOT ALLOW ALEXANDRA ADORNETTO TO PROCREATE UNTIL SHE GAINS AT LEAST AN OUNCE OF FUCKING COMMON SENSE. PLEASE. PLEASE. PLEASE.
Amen.
Here are some examples of how co-dependent and fucked up Xavier and Allie I MEAN BETHIE'S relationship is:
I kept one of Xavier's Tshirts, dowsed in his cologne, under my pillow so that every night I could imagine he was with me. It was funny how the goofiest behavior could feel perfectly natural when you were in love."Okay, don't take the quiz," Hallie cut in. "Just answer a few questions, okay?" "Shoot," I said. "What's your favorite football team?" "Dallas Cowboys," I said without hesitation. "And why's that?" Hallie asked. "Because it's Xavier's favorite team.""He's coming over to make barbecue ribs." "Since when do you like ribs?" The girls raised their eyebrows. "Xavier likes them."I was willing to pardon any crime, but one against Xavier, and so help me, God, Jake would get his comeuppance.Every fiber in my body yearned to return to Xavier. My one true love. The light of my life. (..) My pain was so all consuming that I hardly cared where Jake was taking me to or what horrors awaited.
Had enough? I think so. I know if I type anymore about this shit I will vomit all over my computer, shorting it out. If I do vomit over my computer from Hades induced sickness I WILL sue Adornetto for enough money to get a new one, I swear it.
Is there something else?
Oh yeah!
I DON'T CARE.
The book was so boring, so annoying, so rage inducing, it was so terrible. I WANTED TO DIE.
Top Causes of Death:
Heart disease
Cancer
Stroke
Chronic lower respiratory diseases
Accidents
Alzheimer's disease
Diabetes
Influenza and Pneumonia
Nephritis, nephrotic syndrome, and nephrosis
Septicemia
Hades by Alexandra Adornetto
It's the truth, people.
Oh, and there's one more thing I wanted to mention...
One more thing...
What was it...
That...thing about....
Wait...
It's on the tip of my tongue....
OH!
I remember now!
It was...
THAT GODDAMN FUCKING SHIT VOMIT CREATURE HELL ANGER RAGE RAGE RAGE CAPSLOCK DOLPHIN FUCKING FUCK FUCK FUCKING TITLE!
Many fanidiots have gotten upset about people constantly pointing out that Hades =/= Hell. They say Adornetto can call her books anything she wants. They say Adornetto can do anything she wants. They say that people who point out Hades =/= Hell, lovers of Greek Mythology who hate to see this mixed up, people with general common sense, they say that they need to shut up and worship Allie like they do.
To that I say this:
FUCCCCCCCCKKKKKKKKKK YYYYYYYYYOOOOOOOUUUUUUUUUUU PPPPPPEEEEEEEOOOOOOOPPPPPPLLEEEEEEEEEAAAAHHHHUAISUFNIOSNAOSIPG
Guess what? Guess what? I added this section just because of you, you blithering bleeding dolts! So here I will say it:
HADES IS NOT HELL. HADES IS GREEK MYTHOLOGY FOR THE AFTERLIFE, NOT HELL, NOT EVIL, NOT PAINFUL, JUST THE WHOLE AFTERLIFE. HELL IS CHRISTIAN MYTHOLOGY FOR AN ACTUAL PLACE OF ETERNAL SUFFERING, BAD, PAINFUL, ALL THAT CRAP. YOU CAN NOT MIX THEM UP OR SUBSTITUTE ONE FOR THE OTHER BECAUSE THEY ARE NOT THE SAME THING, THEY DO NOT MEAN THE SAME THING, AND THEY WILL
NEVER, EVER, EVER, EVER MEAN THE SAME THING
!!
AND FUCK ANYONE ELSE THAT THINKS OTHERWISE. DO A WIKIPEDIA SEARCH YOU JACKASSES.
Wow. That got really aggressive at the end there, actually. (Well this whole review has actually been really aggressive. GOT A PROBLEM WITH IT?)
Sure, Allie has the right to write whatever she wants, AND I HAVE THE RIGHT TO FUCKING RIDICULE AND BELITTLE HER FOR IT. BAHAHAHAHAHA.
That is the end of my review.
AND NOW FOR A RANDOM TOKKA GIF.
Because I can and I feel like it.
HAH.
WARNING: TROLL MY REVIEW AND I AM FULLY PREPARED TO AND WILL TROLL YOU THE FUCK BACK. SO BE FOREWARNED, ASSHOLES OF THE INTERNET. YOU HAZ BEEN WARNED.
Note: Everyone that reads this review should rate Hades 1 star, don't care if you have read the book or not, the rating on this pile of shit and vomit is too fucking high and we as human beings need to do something about this.
If you want to you can even read the book to write a bad review of it, which I encourage, this needs as many bad reviews as it can get, seriously. But do not buy the book, Jesus Fucking Christ do not buy the book please. Pirate this thing. Do not waste your money.
Do not waste your hard earned dollars on this creature, please, for the life of me, DO NOT
.
(Yes I am bitter and angry about Hades and I will continue to be bitter and angry about Hades FOR THE REST OF MY LIFE. AMEN.)
Sign into Goodreads to see if any of your friends have read Hades.
Sign In »
Showing 1-50 of 201
(201 new)