Blood Promise (Vampire Academy, #4)
by
Richelle Mead
(Goodreads Author)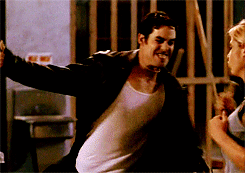 Bu kitabı 2-3 yıl önce okuduğumda ne ağlamıştım ama!! Yeminle göz pınarlarım kurumuştu, lanet olsun hani sıradaki kitap diye bunalıma girmiştim... Hala hatırlıyorum Rose'un kederini... Seride beni en çok etkileyen kitap olmuştur ve en çok severek okuduğum... Ben zaten Rose'u sevmiyorum kederini, ızdırabını, yasını okumak o yüzden ayrı bir güzeldi.
Birde babasıyla tanışmıştık Türk falan diyordu...
Benin için orta halli bir seri. Okunabilir ama bu kitap dışında beni hiç bir kitap etkisinde bırakmadı.
Sign into Goodreads to see if any of your friends have read Blood Promise.
Sign In »
Reading Progress
December 28, 2009 –
Finished Reading
April 29, 2013 – Shelved as:
vampire
No comments have been added yet.