Othello
by
Here's my thing:
Who am I supposed to root for?
Othello? Who doesn't seem to know how to communicate with anyone? He gets so jealous and infuriated by conjecture about his wife (of less than a week, I believe) that he has a seizure. Then proceeds to treat said wife absolutely horribly?
Desmonda? In her first speech, she defends her marriage to Othello
then does nothing else
. She seemed constantly determined to please
everyone
. Joking with Iago, defending Cassio, repeatedly proclaiming her love for Othello-- she never had any motivation outside of the happiness of whoever she was with.
Cassio? Who doesn't have any personality outside of reacting the exact way Iago predicts he will?
Roderigo? The 14th century "nice-guy" who complains about being "friend-zoned" the entire play, and seems incapable of thinking for himself?
I couldn't even root for the villain. Iago all-but admits he has no clear-cut motive, and he spends large amounts of time detracting from the plot to illustrate the reasons he hates women.
I guess I still prefer Shakespeare's comedies to his tragedies. While this clearly was a well-constructed situation and a true tragedy-- I just didn't care at all?
Also, my childish brain went to this every time I read Iago's name: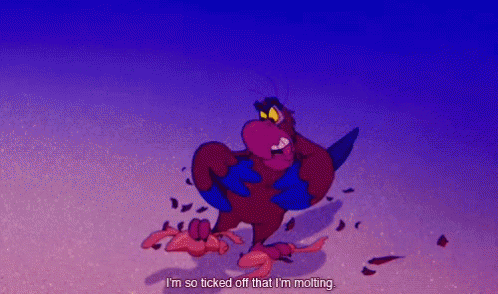 Sign into Goodreads to see if any of your friends have read Othello.
Sign In »
Reading Progress
January 23, 2017 – Shelved
January 23, 2017 – Shelved as:
to-read
February 12, 2017 –
Started Reading
February 22, 2017 – Shelved as:
classics
February 22, 2017 –
Finished Reading
date
newest »
back to top