Shadow Run (Kaitan Chronicles, #1)
by
Well. That was disappointing. And by "disappointing" I mean that someone told me it was like
Firefly
, and I got all excited, because like all true
Firefly
fans, the lack of a second season has left me desperate for anything remotely similar.
Then I read the book I discovered that the person was either exaggerating how good the book is or insulting
Firefly
. Or both. We're going to go with both. I am now very annoyed with this person.
I will admit, the concept had a lot of potential. Nebulous and strange and potentially lethal energy force known as Shadow? Cool. Shadow-fishing? Also cool. People who can control the Shadow and shoot purple fire from their fingertips? Very cool. Other people who want to use/experiment on the people who can control the Shadow? A touch cliche, but still reasonably interesting. Space-battles and space-tech and general spaceship antics? Definitely cool.
With all that, you'd think that I wouldn't be able to put the book down, but no . . . Once I set it down the first time, picking it back up was a struggle, because I spent so much time like this:
I'm pretty sure I saw every single plot twist coming a mile away. The Shadow can do more than just give Qole super piloting skills and fabulous reflexes? Yeah, I kind of guessed. Everyone is suddenly after Qole at the same time Nev is? No surprise there. Nev's family is primarily composed of manipulative jerks with far less honor and very different goals than he has? Naturally.
And, to top it all off, we've got Completely Unnecessary Romance between Qole and Nev. Now, I'm not averse to a good bit of romance. Done right, it can make a book better. But this was just . . . no. I'm fairly certain that it exists solely because the authors wanted another way to create drama and they thought that no YA novel is complete without a romantic subplot that shadows the main (more interesting) plotline. If we could've had a friendship developing between Qole and Nev, that would've been fine- fabulous, even. As it is . . .
Honestly, up until the very climax, I was ready to give this book a two-star rating and label it the Disappointment of the Year. That said, the climax was pretty impressive (particularly compared to the rest of the book). We've got hacking, we've got awesome piloty bits, we've got awesome fighty bits, we've got people being burned alive in purple flame . . . It's like everyone remembered "Oh, right, this is a sci-fi adventure novel, not a bag of romantic nonsense. Let's go be awesome!"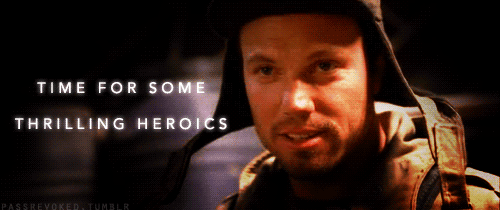 So, yes. The climax gets its own star because the action, at least, was pretty impressive, and so was Basra's revelation and unique sort of attack. The rest of the book? Two stars. And now I'm going to see if I have time to rewatch
Firefly
.
Sign into Goodreads to see if any of your friends have read Shadow Run.
Sign In »
date
newest »
back to top