Jackaby (Jackaby, #1)
by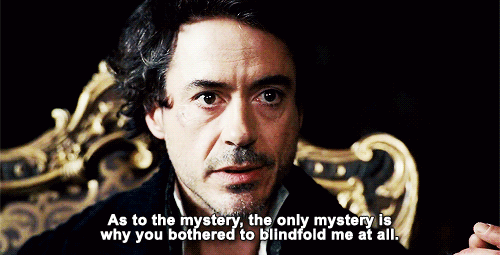 5 STARS!!!
"Sherlock Holmes meets The Spiderwick Chronicles" that's what comes to mind after reading this book. I loved it. I loved how fantastical and dark and eerie this was and I'm excited to check out the rest of the books in the series. Jackaby was a my favorite character of course. He was odd, stubborn, insane at times, but fantastic as well. I really enjoyed Abigail's POV and thought she was an amazing heroine too, unlike a lot of female protagonists in YA who always feel the need to be saved or let a man do their job or make them feel small. Abigail was a boss.
This is considered YA and I think because the main characters are older is the only reason why. Make Jackaby 14 and Abigail 13 and this would be a perfect Middle-Grade book as well. There is nothing in this book that is too much or too dark or explicit for Middle-Grade readers. That is probably another reason why I liked it so much. I also liked it because there was no romance between Abigail and Jackaby and that was one of the best things about this book. Yes, there was a hint of romance with another character but not between the main characters which I enjoyed immensely. I wish more YA books did this, maybe I'd enjoy the genre more.
Being a huge fan of The Spiderwick Chronicles and supernatural folklore, I was really excited to see it blended into a Victorian era mystery. That was awesome. I knew quite a few of the creatures that Jackaby described at times and really liked the magical side to this story.
I also want to mention that this book got me! I was pleasantly surprised that I didn't deduce who the killer was until it was revealed and then I went ah!!! I should've been able to get that. haha
But this was a very good time. It was thrilling, fantastical, spooky, and pretty funny at times. Again I look forward to Jackaby and Abigail's further adventures and and I'm pretty sure I'd like to own this series now for my bookshelf and that is saying a lot. - Richard
Sign into Goodreads to see if any of your friends have read Jackaby.
Sign In »
Reading Progress
July 16, 2016 – Shelved as:
to-read
November 12, 2016 –
Started Reading
November 12, 2016 –
page 30
10.03%
"This is giving me Sherlock Holmes meets The Spiderwick Chronicles and I am intrigued as hell."
November 13, 2016 –
page 105
35.12%
"I'm grinning from ear to ear because so far there's no romance between Abigail and Jackaby. Let's hope it continues this way."
November 14, 2016 –
page 202
67.56%
"I am loving how different this is. There are so many Victorian era YA & MG mysteries that this definitely pops out as original. "
November 15, 2016 –
Finished Reading
date
newest »
back to top