Harry Potter and the Goblet of Fire (Harry Potter, #4)
by
Sonja ✧ Badass Wanderer ✧
's review
bookshelves:
favourite
,
love-this-so-much
,
fantasy
,
feel-good
,
magical-writing
,
own
,
political-intrigue
,
too-many-feels
,
young-adult
,
dark
Read 2 times. Last read January 21, 2016 to January 24, 2016.
"it matters not what someone is born, but what they grow to be!"
Harry Potter and the Goblet of Fire
is the first HP novel that becomes truly dark. There's death, betrayal and suffering but there's also happiness, friendship and love. It was a rollercoaster of emotions for me. One moment I was happy, the other I was sad, or dreading an event I knew was coming. I was hoping, against all odds, that somehow the plot of
Harry Potter and the Goblet of Fire
had changed since the last time I entered this world. But it hasn't.
I found it very interesting to see all the little clues that I didn't notice the first time around, and some things still came as a surprise to me (even though I
knew
it was going to happen). I guess we all hope that when we reread a book that miraculously its contents change or that it will hurt less. The end still hit me as hard as it did the first time. Some things never change.
Of course, I'll continue rereading the books. Now that I'm hooked, I can't let go. Even if I wanted to (which I don't).
"Remember Cedric. Remember, if the time should come when you have to make a choice between what is right and what is easy, remember what happened to a boy who was good, and kind, and brave, because he strayed across the path of Lord Voldemort. Remember Cedric Diggory."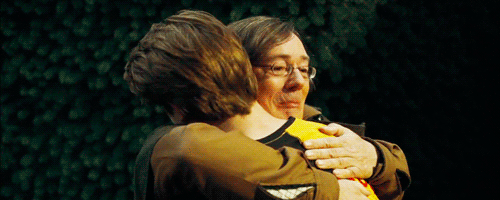 .
My Review of Harry Potter and the Prisoner of Azkaban
.
.
.
1st read in August 2014
⭐⭐⭐⭐⭐
/5 (9.5/10)
Harry Potter and the Goblet of Fire
is an exhilarating novel full of clear signs of bigotry. Bigotry is intolerance towards those who hold different opinions from oneself. In the Harry Potter Universe this can be clearly read. Pure-bloods, half-bloods, wizards from Muggle decent, wizards who are half-giants all of them are prejudiced. J.K. Rowling displays the reader not to judge someone by their blood but by their actions.
The novel is exciting until the ending. Rowling ends all her novels exceptionally well. The closure ends as how a closure of an adventure in one's life would end. It's smooth. It doesn't make the reader feel unsatisfactory.
Many surprises are present in the novel. Characters are yet again not who they seem to be. I felt particularly betrayed when
(view spoiler)
[the Defence Against the Dark Arts teacher, Alastor 'Mad-Eye' Moody, turned out to be a Death-Eater who impersonated Alastor to give Harry to He-Who-Must-Not-Be-Named.

The rise of Lord Voldemort was done splendidly and impressively. For instance, I felt scared when he came to power, as if he was rising to power in my world not in the fictional Harry Potter Universe. When all his Death-Eaters came I had the urge to cast one of the Unforgivable Curses on them. (hide spoiler)]
The characters, especially Harry, face many challenges which question their braveness, honesty, goodwill, power, wisdom, courage and many other heroic qualities. Harry never fails such a test. I can clearly read Harry's character and the way he thinks, and what his morals are. Because of this I firmly stood behind him when he faced challenges.
The novel is very touching. Because I connected and understood the characters well I sympathised with them as well. I must admit that I cried when
(view spoiler)
[Mrs Weasley told Harry that it wasn't his fault that Cedric died. Harry could have never known that their good intentions and goodwill towards each other caused Cedric's tragic ending. (hide spoiler)]
I cried a bit as well when
(view spoiler)
[Dumbledore said to remember Cedric during the Leaving Feast. The characters feel like friends that I have known for four years, since they enrolled Hogwarts. And to see one of them die a horrific death is very dreadful and sickening. (hide spoiler)]
The comical aspect of the Harry Potter novels hasn't faded. From names (Ron's tiny and thin eagle named Pig) to hilarious lettres (from Ron as well) and comments (from the Weasleys in general and once from Amos Diggory (please-men = Muggle police men)), this novel didn't disappoint. I love how J.K. Rowling makes the novel more light-hearted and easier for the heart by writing some foolishness and hilarity in the novel.
All in all,
Harry Potter and the Goblet of Fire
was
AWESOMETACULAR
.
''Knows people can turn out OK even if their families weren' … well … all tha' respectable. But some don't understand that. There's some who'd always hold it against yeh … there's some who'd even pretend they just had big bones rather than stand up an' say - I am what I am, an' I'm not ashamed. ''Never be ashamed,'' my ol' dad used ter say, 'there's some who'll hold it against you, but they're not worth botherin' with.''' - Hagrid, p.395-396
''If you want to know what a man's like, take a good look at how he treats his inferiors, not his equals.'' - Sirius, p.456
''You place too much importance, and you always have done, on the so-called purity of blood! You fail to recognise that it matters not what someone is born, but what they grow to be!'' - Dumbledore, p.614-615
''we are only as strong as we are united, as weak as we are divided.'' - Dumbledore, p.627
["br"]>["br"]>["br"]>["br"]>["br"]>["br"]>["br"]>["br"]>["br"]>["br"]>["br"]>["br"]>["br"]>["br"]>["br"]>["br"]>["br"]>["br"]>["br"]>["br"]>["br"]>["br"]>["br"]>["br"]>["br"]>["br"]>
Sign into Goodreads to see if any of your friends have read Harry Potter and the Goblet of Fire.
Sign In »
No comments have been added yet.