Northanger Abbey
by
A creepy mansion ...
Dark and stormy nights ...
... and Jane Austen just having fun with us.
"Now I must give one smirk, and then we may be rational again."
Seventeen year old Catherine Morland, as innocent and naïve a heroine as Austen ever created, with no particular distinguishing characteristics except goodhearted sincerity and an overfondness for Gothic novels, is invited to stay in Bath for several weeks with kindly and wealthy neighbors. She meets a new bestie, Isabella ...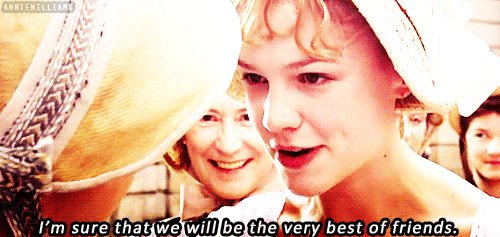 ... as well as Henry Tilney, a guy who's far too quick―not to mention wealthy―for her. But he has a weakness for cute girls who totally admire him.
Their relationship strikes me as weak, probably because Austen was focused more on creating a parody by turning Gothic conventions on their heads than on creating a compelling heroine and romance. Henry is a great character, but Catherine really isn't quite up to his level, despite all of Jane Austen's rationalizations (though maybe that's true to life sometimes). However, I comfort myself with the thought that Catherine isn't unintelligent, just young and inexperienced. I have faith in Henry's ability to kindly help her learn to think more deeply and critically.
Austen inserts a lot of sarcastic side comments mocking Gothic plot elements, like Catherine's father being "not in the least addicted to locking up his daughters" and her mother "instead of dying in bringing the latter [sons] into the world, as anybody might expect," still living on in inexplicably good health. But Austen also takes the time, whilst skewering Gothic novels, to make a few pleas to readers in favor of novels generally. And she creates one of her most deliciously shallow and hypocritical characters in Isabella, whose mendacious comments, along with Henry's sarcastic ones, were the biggest pleasure in this book for me.
When Catherine is invited to visit with Henry's family at the formidable Northanger Abbey, all her Gothic daydreams finally seem poised to come true. A mysterious heavy chest in her bedroom, with silver handles "broken perhaps prematurely by some strange violence"; an odd locked area of the house; a man she suspects of doing away with his wife. Gasp! Austen makes fun of it all, and Catherine's "disturbed imagination" along with it. Catherine repeatedly gets shot down and then makes firm although not necessarily long-lasting resolutions not to let her imagination run away with her in the future. But it seems likely that, in the end, she's gained some experience and wisdom.
Not to mention
(view spoiler)
[Henry.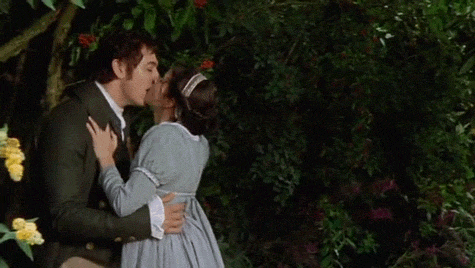 (hide spoiler)]
Good fun! The 2007 BBC TV movie with Felicity Jones and JJ Feild takes a few liberties with the book's plot, but I still recommend it highly.
Random trivia:
Watership Down
uses the ending lines from
Northanger Abbey
as one of its final chapter heading quotes, in probably my favorite use ever of a literary quote for a wholly different yet completely appropriate context.["br"]>["br"]>["br"]>["br"]>["br"]>["br"]>["br"]>["br"]>["br"]>["br"]>["br"]>["br"]>["br"]>["br"]>["br"]>["br"]>["br"]>["br"]>["br"]>["br"]>["br"]>["br"]>["br"]>["br"]>["br"]>["br"]>["br"]>["br"]>
Sign into Goodreads to see if any of your friends have read Northanger Abbey.
Sign In »
Quotes Tadiana ✩Night Owl☽ Liked
Reading Progress
January 14, 2016 –
Started Reading
January 14, 2016 – Shelved
January 14, 2016 – Shelved as:
regency
January 14, 2016 – Shelved as:
gothic
January 15, 2016 –
13.0%
""I make it a rule never to mind what [men] say. They are very often amazingly impertinent if you do not treat them with spirit, and make them keep their distance... They give themselves such airs. They are the most conceited creatures in the world, and think themselves of so much importance!"\n \n --Isabella's comments tell more about herself than they do about men."
January 16, 2016 –
40.0%
"She was heartily ashamed of her ignorance. A misplaced shame. Where people wish to attach, they should always be ignorant. To come with a well-informed mind is to come with an inability of administering to the vanity of others, which a sensible person would always wish to avoid."
January 16, 2016 –
57.0%
""... when a young lady is (by whatever means) introduced into a dwelling of this kind, she is always lodged apart from the rest of the family. While they snugly repair to their own end of the house, she is formally conducted by Dorothy, the ancient housekeeper, up a different staircase, and along many gloomy passages, into an apartment never used since some cousin or kin died in it about twenty years before.""
January 17, 2016 –
82.0%
"Soon after this, the general found himself obliged to go to London for a week; and he left Northanger earnestly regretting that any necessity should rob him even for an hour of Miss Morland's company, and anxiously recommending the study of her comfort and amusement to his children as their chief object in his absence. His departure gave Catherine the first experimental conviction that a loss may be sometimes a gain."
January 17, 2016 –
94.0%
"Whether the torments of absence were softened by a clandestine correspondence, let us not inquire. Mr. and Mrs. Morland never did—they had been too kind to exact any promise; and whenever Catherine received a letter, as, at that time, happened pretty often, they always looked another way."
January 17, 2016 – Shelved as:
humor
January 17, 2016 –
Finished Reading
Showing 1-35 of 35
(35 new)
date
newest »
back to top