Corrupt (Devil's Night, #1)
by

Angie McLain
's review
bookshelves:
6-stars
,
all-time-favorite
,
dark-and-twisted
,
dark-mysterious
,
drove-me-out-of-my-mind
,
eleventy-three
,
epic-read
,
favorite-authors
,
favorite-book-couples
,
favorite-of-2015
,
favorite-series
,
favorites
,
hawt
,
may-require-therapy-after-reading
,
mind-f-uck
,
molten-hawt
,
not-for-the-faint-of-heart
,
omfg-need-now
,
one-handed-read
,
panty-melter
,
to-be-re-read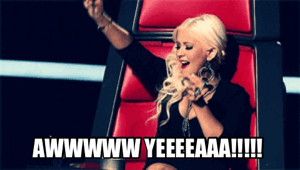 6 STARS – This book should include a warning at the very beginning, something along the lines of...*WARNING – This book will cause spontaneously combusting panties and ovaries!*
OR
*WARNING – This book may cause fraying of your nerves and drive you to drink!*
"There were dark seeds and bad seeds, but who cared if the house was falling apart as long as it was pretty, right?"
Corrupt is the brand new full length, standalone from Penelope Douglas. Be warned before you start this book, that it is dark, and twisty. It is also not for the faint of heart. This book will take you down a rabbit hole, it will push your limits, but that being said, it is totally worth every single second. This book is absolutely entrancing and you will not be able to put it down from the moment you begin. Be ready to be held utterly captive by Corrupt. I had read the blurb before I began Corrupt and even that could not have prepared me for what was going to unfold within this story.
"I wanted to get into a little trouble. I wanted to catch some rain, find something that made my heart pump again, and I wanted to know what it was like to not have anyone to grab onto."
Welcome to Thunder Bay… where wealth and power will overrule most everything. Having a rich family with powerful parents can get you out of everything.
Erika Fane and Michael Crist have grown up here their whole lives. Their families have always been very close, and Erika has been in love with Michael since she can remember, she is also mildly terrified of him. Michael however appears to not even realize that Erika exists. Trevor Crist, Michael's younger brother not so much. Erika has spent a lot of time in the Crist home, often sleeping over and eating most of her meals there. Erika's mother is unwell for years and she seems happy with the fact that her daughter doesn't have to spend her time all alone.
One Devils' Night everything changes forever. An unexpected sequence of events sets off a chain reaction, the fallout is going to echo for years later. I'm not going to go into the story line at all with this review, and it's for a damn good reason. This book needs to entered into blind. You need to be uneasy and off kilter while you're reading it, because that makes it so much more enjoyable and powerful. It needs to be experienced just like you would a horror movie, with the lights off.
"They were here. The Four Horsemen.""Beware the fury of a patient man."
Penelope Douglas as written a book unlike anything else I have read this year and it is amazing to say the very least. Corrupt is unique, daring, intense and totally unputdownable. I actually became irrationally angry when I had to put it down and take care of my family, hahahaha. The writing here is impeccable and the characters are totally twisted and devious. It's delicious. It also has some of the sexiest and erotic scenes I have ever read! You'll need a few moments throughout to cool off; when you get to the sauna scene you will understand what I'm referring to. Promise. This story is incredibly complex, there is so much going on not only on the surface, but also just below it, it's twisty and it will keep you on the edge of your seat from the very start. I was desperate for answers and once I finally had them, my mind was blown! What a crazy, wild and insane ride this book was, it was brilliant, masterfully created and executed. The only issue I have here now is that I want another book, two actually. I want a book now for Kai and one for Will, I also kind of want one for Damon too if I'm being 100% honest. Every single one of the characters in this book is so complex it's impossible to not want to know more.
"The closer you got to anything beautiful, the less beautiful it became.
Allure was in the mystery, not the appearance."
Corrupt is now on my Top Reads List for 2015 and it is also one of my All Time Favorites list! If you don't enjoy books that push your limits or make you squirm, you might want to skip this one. But take my word for it when I say you would be missing out on an incredible book. Nothing I could come up with will do this book justice so I'm just going to quit while I'm ahead and start rambling.
"Don't think you're special," he sneered. "Lots of women get him. No one keeps him."
Go now and get your copy of Corrupt and when you love it as much as I did, tell all your friends. #SharingisCaring.
Sign into Goodreads to see if any of your friends have read Corrupt.
Sign In »
No comments have been added yet.