King Lear
by
leynes
's review
Read 2 times. Last read March 26, 2018 to March 27, 2018.
King Lear
, a modern reimagination by yours truly.
LEAR: Gather 'round daughters, ya daddy is old af and wants to retire. Whoever kisses my sweet ass the most will get the largest part of my kingdom.
GONERIL: Daddy, I love you so so so so so so much.
REGAN: Daddy, I love you even moooooooooooore.
LEAR: (
squeals happily
) Ah, there's nothing like family. Cordelia, how about you?
CORDELIA: (
shifts awkwardly
) I have nothing, my lord.
LEAR: Nothing?
CORDELIA: ...
LEAR: BITCH, THE DOOR! (
the door being France
)
KENT: For real? This decision will bite you in the ass one day.
LEAR: Kent, you know what, while we're at it, you can fuck off too.
*
EDMUND: Honey, you should see me in a crown. I might not be as honorable of a bastard as Jon Snow but I will sit on that goddamn throne. (
screams
) DAAAAAD?
GLOUCESTER: I told you not to call me that in public, you little shit.
EDMUND: Edgar, your honorable, loyal and rightful heir, is plotting to kill you. Yeah, I'm totally not making that up to steal his place.
GLOUCESTR: Fair enough. (
screams
) EDGAAAAR?
EDGAR: Yes, O my beloved father?
GLOUCESTER: Piss off.
EDGAR: (
shrugs
) Well, then, guess I'm going to live naked in the woods now. Walden has nothing on me.
*
LEAR: (
slowly descending into madness upon realizing that Regan and Goneril are fake hoes who want to get rid of his sorry ass
) Zeus, you hear me? I need some thunder and lightning to fit my mood.
ZEUS:
(
The biggest storm ever hits. Shakespeare in the back taking notes for The Tempest.
)
LEAR: (
dancing in the rain
) CASH ME OUTSIDE HOWBOW DAH?
GLOUCESTER: Umm... guys, don't you wanna do something? Your father's 'bout to catch a cold.
GONERIL: You're 'bout to catch those hands. (
stabs his eyes out
)
REGAN: (
tosses Gloucester's blind ass to the streets
) Well done, sis.
GONERIL: And they say women are weak.
REGAN: (
looks around savagely
) Now who's gonna help us kill our father next?
EDMUND: I'm in.
REGAN: (
leers at Edmund
) That's one fine ass.
GONERIL: (
giving Regan a side-eye
) This D is mine. I will poison her ass.
ALBANY: (
looking at Goneril, is shooketh
) My wife's a ho.
*
Meanwhile...
CORDELIA: (
marching on Britain with her French army
) Yee-haa!
EDGAR: (
returning from the woods after having saved his father from committing suicide
) Yee-haaa!
KENT: (
donning costume
) Bitches, I'm back!
LEAR: (
embracing Cordelia
) Everything is going to be alright now.
ALBANY: (
stepping onto the scene
)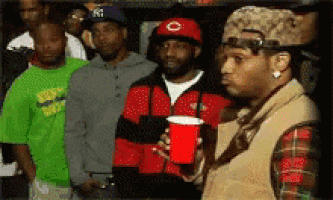 REGAN: (
dies from poisoning; off-stage of course because no one cares about women
)
GONERIL: (
kills herself; off-stage, that goes without saying
)
CORDELIA: (
gets fucking hanged; OFF-STAGE
)
EDMUND: (
gets killed off-stage
)
LEAR: FML. (
dies
)
ALBANY:
EDGAR: Guess, I'll be King now.
ALBANY: The Quarto says I will be King.
EDGAR: Fuck the Quarto, the Folio is on my side.
ME: (
as the curtains close
)
Sign into Goodreads to see if any of your friends have read King Lear.
Sign In »
date
newest »
back to top