The Mistake (Off-Campus, #2)
by
GIVEAWAY: 1 kindle copy.
Find info here ->
http://wp.me/p4uAPW-1kp
So EFFIN good!!!
Welcome to college in 2015!!
In all honesty, college life hasn't changed since I was in it. The parties, drama, school work are all still part of it.
I love the college drama because it brings back memories. :)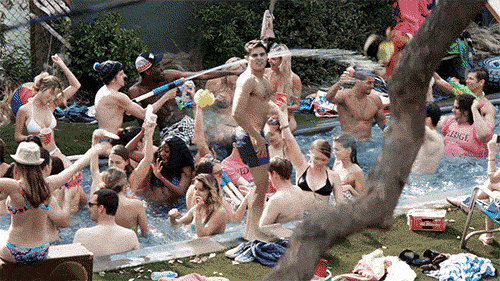 Okay, here is quick 2 sentence sum up of this book: One evening Logan ends up at the wrong apartment where he meets Grace. A
MISTAKE
is made that leads to Logan trying to woo his way back into her good graces. Below are some "get to know you questions" I made up for this couple.
THE DATING GAME questions with Logan and Grace: 1.
WHAT WAS YOUR FIRST IMPRESSION OF GRACE?
"Man, she really is pretty. Not drop-dead gorgeous or anything, but she has a fresh-face, girl-next-door look that's seriously appealing. Freckles on her nose, delicate features, and smooth, creamy skin right out of a makeup commercial."
2.
DURING YOUR FIRST CONVERSATION WITH LOGAN YOU COMPARED HIM TO THE INFAMOUS SERIAL KILL, TED BUNDY. WERE YOU NERVOUS AND THAT'S WHY YOU STARTED RAMBLING ON ABOUT RANDOM STUFF?
"No. Well, maybe a little. I don't know … yeah. Stranger danger and all that… But … you know…"
3.
WHAT KIND OF GIRL ARE YOU LOOKING FOR?
"I want someone to cuddle with and watch movies with, someone who wears my jersey and cheers for me at games, and cooks dinner with me."
4.
HOW HAS DATING LOGAN "CORRUPTED" YOU? ;)
"He's corrupted me with the dirty words he whispers when we fool around, and I like it. I like the thrill of being bold and wanton, and I
love
the way his warm flesh quivers when I taste him with my tongue."
5.
WHEN IS IT APPROPRIATE TO TELL GRACE YOU LOVE HER?
"I'm not sure what the etiquette for I-love-you's is. I told my first girlfriend I loved her after two weeks of dating. My second, after five months. So maybe I should split the difference and tell Grace… at the three-month point. Yeah. That seems like an appropriate amount of time."
~
Now that you've gotten to know Logan and Grace a little better have fun reading about them in THE MISTAKE. One of my favorite parts happens at 63%. I had so much fun finding a gif for that passage. That's the great part about goodreads is even for those who haven't read the story they are still able to join in the fun laughing at a gif.
The Mistake is my second book by Ms. Kennedy and I'm anticipating more books in the Off-Campus series.
✦✦✦✦✦✦✦✦✦✦✦✦✦✦✦✦✦✦✦✦✦✦✦✦✦✦✦
RELEASE DATE: 4/28/2015
Pre-order | order:
http://amzn.to/1HGaivE
SERIES:
Can be read as standalones.
Secondary characters from the first book become the main focus in subsequent books.
To find when the next one is being released click
here
.
**Complimentary copy in exchange for an honest review.**
Sign into Goodreads to see if any of your friends have read The Mistake.
Sign In »
Reading Progress
April 15, 2015 – Shelved as:
to-read
April 16, 2015 –
Started Reading
April 18, 2015 –
55.0%
"UH OH #trouble\n \n Gretchen and Morrison are going to go on a date. \n \n
"
April 18, 2015 –
63.0%
"LMAO I'm laughing so hard my family thinks I'm crazy.\n \n
"
April 18, 2015 –
68.0%
"Eeeeee!!! The Hook-Up! \n \n
\n \n *fun when authors mention characters from other series*"
April 18, 2015 –
77.0%
""Horror movies don't scare me. They piss me off because the characters are always so frickin stupid. They make the worst decisions possible, and we're supposed to feel sorry for them when they die? No way!"\n \n
"
April 18, 2015 –
99.0%
"This is a goodie!!! \n \n
"
April 27, 2015 –
Finished Reading
Showing 1-50 of 113
(113 new)