I'm Not Your Manic Pixie Dream Girl
by
4.5 stars
"Toile's type is heroin for a guy like Jesse."

"And what type is that?" I asked.

Spencer laughed. "Duh. She's a manic pixie dream girl."
I alternated between two expressions while reading. Going "Awww!" or having a big fat grin plastered on my face.
Fine, they're the same thing. I'm a little stuck for ideas on how to communicate the utter magic and intense teenage joy I'm Not Your Manic Pixie Dream Girl brought me, so in honor of the protagonist Bea's nerdiness,
I'm making a list.

1. It's unbelievably adorable
Younger YA readers would compare it to
Anna and the French Kiss
or
Fangirl
. Being the old soul that I am, I would liken it to
Meg Cabot's How to Be Popular in style and plot.
Both are about a girl who remakes herself to climb the social ladder, then eventually realizes being herself was the solution all along. It's a classic chick flick formula for a reason. McNeil executes it brilliantly and took me back to my tween days, lying on my bed reading Cabot.
Then there's Spencer. Le sigh.
Spencer.
He's the boy who isn't afraid to call the heroine out on her bullshit or cheer her up when she's down. The one who loved her long before she was anyone but herself.
Excuse me a sec.
2. Murders the Manic Pixie Dream Girl trope, stuffs it and hangs it above the mantelpiece
"The wacky outfits.

The unexpected actions.

The positive feedback loop.

The relentlessly sunny disposition.

Manic pixie dream girl was a formula."
Margo Rothman can suck it. This is how you subvert a sexist plot device that's been around since the 20th century. By turning it into a tool.
The gist is Bea loses her boyfriend to the quirky new girl Toile and decides to win him back by transforming into a pixie girl herself. New wardrobe, new personality, new everything. Think
Gone Girl
meets the TV series New Girl, which is an another amazing example of turning the tables on the trope.
The Pixie Girl's purpose is inspire the male protagonist. This is Bea's story. This is Bea using something originated for the male gaze to get what
she
wants. Along the way, she discovers who
she
is as a person.
Spencer isn't left out either. He's not a Pixie Boy and goes through a character arc of his own.
Also, this quote:
"That manic-pixie-dream-girl thing isn't total crap, you know. You can inspire someone without sacrificing yourself in the process."
3. Yassss, feminism!
It handles the feud between Bea and Toile so beautifully. There's minimal girl hate and slut-shaming. Bea eventually questions whether she's pretending to be "Trixie" (her Pixie Girl name) to get Jesse back or just to beat Toile.
That prom scene is magnificent. You'll see what I mean.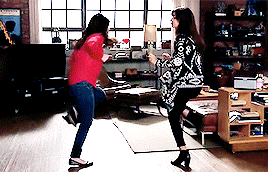 4. The diversity
Bea's mother is Filipino, making Bea half-Filipino. There's a sweet, thoughtful portrayal of gay stereotypes, too.
5. Complex familial relations
Bea's relationships with her parents both play a part in her character arc. They're divorced and she splits her week between her mom's and her dad and his new wife's. No wicked-stepmother storyline; Bea and her new stepmother get along quite well and it's heartwarming how everything works out.
Don't kill me for being vague. It's a
plot that has to be experienced, not summarized.
"Women are not on this planet exclusively to inspire men and make them happy. We have our own dreams and needs, our own shit to get done. We run companies, countries, international organizations. We're not props, and we're certainly not here to cater to men's egos."
This book just makes me embarrassingly happy.
ARC provided by Edelweiss. Quotes taken from an uncorrected galley proof and may be subject to change.
Sign into Goodreads to see if any of your friends have read I'm Not Your Manic Pixie Dream Girl.
Sign In »
Reading Progress
April 6, 2015 – Shelved as:
to-read
May 19, 2016 – Shelved as:
arc
June 26, 2016 –
Started Reading
June 26, 2016 –
22.0%
"This reminds me of Meg Cabot's How To Be Popular. \n \n
"
June 29, 2016 –
Finished Reading
Showing 1-23 of 23
(23 new)
date
newest »
back to top