Fractured Lines (Out of Line, #4)
by
PEPPER'S REVIEW
FRACTURED LINES is the 4th book in the OUT OF LINE series. However, it can totally be read as a standalone. I haven't read any in this series (which will be rectified immediately) and the book read fine for me. I just need more, so I'm totally going back to read the rest. So...
God Dammit. I don't even know how I'm alive to write this review right now. Because this book murdered me.
AKA - So. Hugging. Good.
Let me explain, or try to.
If you've read my reviews, you know I am not into writing real wordy and flowy descriptions of my feels. I often try to be funny and swear a lot and talk a lot about sex. And of course our staple here at ARR is to use GIFs to attempt at getting you to become part of the hilarity that is our friendship...
But, this book. It did something to my wit. It made me cry. Like about my own life. Hard. And for a long period of time. I'm not going to forget about this for, probably ever. Like, this review is basically a journal entry and a thank you note (of sorts) to JenMac for helping me release a lot of heartache.
OK. I know, I know: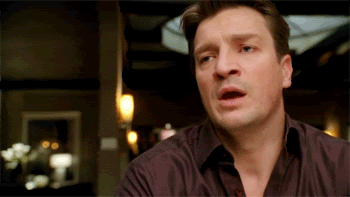 And you're all probably going:
I'm trying...
So I'm in this weird place in my personal life, which made this book extremely emotional for me. And obviously judging by the lack of anything intelligent that has been said; it REALLY hit me hard. JenMac takes this HEA marriage and turns it into this raw, gripping insanity. And we see what life should be about (at least for me) for two people owning each other's whole being: LOVE. and passion. and soul mates. and best friends. and the absolute WANT to do what's right. and the NEED for someone. and actually not walking away. and putting the other person first so as to make things right.
Finn is a man. And he messed up bad. And, my God, how do you come back from that? But he's amazing and beautiful. And his intense love and need for Carrie is all encompassing. Like it tore me apart and then I just felt hope that it can be real? Finn's mess up is also something that hits directly at home for me. So the way that this was written - JenMac KNOWS what's up. I mean, just the conversation between Finn and Carrie when things go down. Was, SO REAL.
*sidebar - this book is written so well. This woman knows how to write. The dialogue and the inner voice. All of it. It felt just like my life. And all I can do is give you another GIF on how that made me feel:
It just felt like she was in my head...
And Carrie. When I recover, I'm going to read this again (and probably again) to get some pointers. This girl does not back down. And what she went through? Just the way the chapter read out when she finds out about Finn's fuck up. Holy shit. I was her. I felt all of it. She's not weak. And she doesn't bend - at first. And I respected and loved her for that. She was putting herself and her family first. We all need a lesson in that at times, I think. Carrie inspired me. Honest to God.
OK, even though this is the weirdest, most honest review I've written. I have to talk about the sex. Because, Jesus. I'm tearing up. What the hell did you do to me JenMac??? I just don't even know what to say. Because obviously it wasn't JUST sex. And, God, dare I say it was making love? Nope. It wasn't even that. It was like I need to get inside of every part of you. and not the "hot" kind of inside. But like becoming one person. I suck at this. But it almost felt ethereal for me. So, so amazing.
What this...
...interesting review is basically saying is: read this fucking book. All of it. 3 times. It may not hit you like it did me. But it is the hands down BEST writing I've ever read in regard to addiction and fighting for a relationship. I did NOT want to put this book down. But I had to. Because it made me feel too much. But I'm weirdly grateful for it. You know when you need that hysteria release?
Just read it.
Sign into Goodreads to see if any of your friends have read Fractured Lines.
Sign In »
Reading Progress
November 11, 2014 – Shelved
No comments have been added yet.