City of Heavenly Fire (The Mortal Instruments, #6)
by
I don't even know
how
to adequately sum up my feelings for this book.
It was truly amazing, phenomenal, and just a litttttle bit heartbreaking.
I have a hunk of things I'm actually a (little) tiny teeny bit disappointed about. But all up? OH MY GOSH LOOK AT THIS MOUNTAINOUS BOOK I GOT THROUGH. AND HOW MUCH DO I LOVE IT? TO THE MOON AND BACK, MY FRIENDS. I LOVE THIS FANDOM! I LOVE THIS SERIES! And the
best
part was googling through Cassandra Clare's upcoming novels and realising she has soooo many more books to come out in the Shadowhunter world. I AM SO HAPPY. I will read them all. (Speaking of which, next on my list is
The Bane Chronicles
and
Clockwork Angel
.)
NOTE: There will be spoilers in this review for the first 5 books BUT NOT FOR THIS BOOK! THIS IS A CITY OF HEAVENLY FIRE SPOILER FREE REVIEW.
Good? Good. Let's keep moving.
Series conclusions have a lot of weight riding on them...and I think CoHF buckled just a little.
It was huge. I mean 700+ pages?? It spent a lot of time introducing 12 year old Emma and Julian (who appear to star in Cassandra Clare's next series...I think?) who's parents were massacared and they're now in Idris. Okay, they were cute and a bit interesting. But did I care?? I mean....I've spent 5 books following Jace, Clary, Simon, Isabelle, Alec, and Magnus. I want to know about
them
. I don't want to be cheated out of a single second with them by reading about Emma-whoever.
I think there were a lot of unnecessary additions.
All the council meetings? We've had them a million times. (And can I stick in that I HATE THE CLAVE. They are so backwards and stupid and just...gaaaah! They never listen!!) And, again, Maia's werewolf storyline didn't interest me in the slightest. Maia never won my respect. Not once. So I could care less what happened to her except when
(view spoiler)
[ Jordan died. I was sad about that. It was quite the shock, actually. (hide spoiler)]
.
Let's talk about death for a moment, eh?
I actually though Cassandra Clare was notorious for death scenes of main characters...but maybe not. I'm going to go into a liiiiiittle bit of detail, so DO NOT CLICK THE SPOILER TAGS if you haven't read the book!! DON'T. Step away.
(view spoiler)
[ I'm really disappointed, and I know this sounds sooo mean, but no one really died. It was like the author couldn't take that next step and amp up the feels-crushing dials. Although, at the same time, I'M FREAKING PLEASED EVERYONE SURVIVED. What I think the problem is, though, is that the previous books amped up the stakes so soooo high, that CoHF had little room to go. (hide spoiler)]
I don't feel like the stakes where high enough in this book.
(view spoiler)
[ And therefore I felt in danger for my favourite characters the whole time but it never came through. It ripped out my entire heart that Simon sacrificed himself at the end. Although he was getting his memories back slowly. BUT OMG SIMON MY SWEET PERSON. I honestly thought, reading book #1, that Simon would drift out. Simon is the series. SIMON. (hide spoiler)]
All the story lines wrapped up really smoothly.
There were no gapping holes. There was just...ahhhh! WONDERFULNESS. Although, like, heaps of people died. I think Shadowhunters are an endangered species. Eh.
LET'S TALK ABOUT CHARACTERS FOR A SECOND.- Clary and Jace.
They truly are the most disappointing addition to this series. They were my favourites in the last book and I wanted to tackle hug Jace when Clary stabbed him in book 5. BUT. They seemed to have no where to go here.
(view spoiler)
[ Except for the mandatory sex. Which I kind of feel weird about...because it was almost like a "let's have sex before we die" sort of deal, which felt...kind of stupid since they were in a frikkin demon realm at the time with part of their party dead and possibly Clary's parents dead too. I mean. Is now the moment?? (hide spoiler)]
They absolutely plateaued. Jace didn't even have many good lines.
- Isabelle and Simon.
OBVIOUSLY THEY ARE MY FAVOURITE! THEY ARE MY SHIP! THEY ARE MY WORLD! I love Simon to death (which fits since he's an undead vampire) and I love Isabelle's incredible snark and emotionally damaged-ness and how adorable they were together and how much Simon really truly cared about Isabelle. I love Simon because he could still have a friendship with Clary even though he didn't love her romantically. I love Isabelle that she broke down barriers and actually admitted she loved Simon. I SMUSH THEM TOGETHER, MY ADORABLE HAPPY SHIP. I would read an entire series about Isabelle and Simon. I would read anything. Oh my gosh. Hold my heart. I'm fangirling.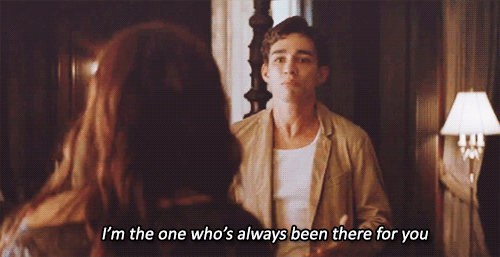 - Alec and Magnus.
They went through a heck of a lot of character development here. Although...well, I won't tell you if they end up together or not after book 5's traumatic breakup. But I admire these two a LOT because they are so different and yet so adorable and yet...Magnus. Alec. *smushes this ship together too*
- Luke and Jocelyn.
I maintain that Jocelyn is the worst and most annoying parent to ever walk across YA. She's useless and controlling and way too dramatic. She spends all her time trying to stifle Clary and then -- BOOM -- Jocelyn is in danger/missing/gone/sleeping again. I don't even care. I want her gone. I think Clary has so much more room to develop when she's no there. LUKE ROCKS. But he had shameful little book time.
- Sebastian.
He was a freaky level of evil, although he maintains he's freaky obsession with his sister that grosses me out 100%. I believe it's supposed to. Although...something
happens.
I kind of teared up.
All and all it was a frighteningly good book.
I'm HAPPY with this as a conclusion. I don't think it's the strongest TMI book, but I think it's a satisfying one. I will forever be sorry that Clary lacks character development. But I will FOREVER love this world and these characters. I've read all 6 books this year and ahhhh! MY NEW FAVOURITE FANDOM. (Apart from, well, a few others.) Humour. Danger. Fighting. Betrayal. Shippable cuteness. And a piano.
I am so pleased.
FAVOURITE QUOTES.
"I can't warm you up. No body heat." His voice sounded a little tinny.
She nuzzled her way into the juncture of his collarbone and shoulder. "I think we have established in so many ways that I am hot enough for the both of us."
*
He [Jace] had the glint in his eyes she both loved and dreaded, the one that said,
I do what I want and damn the consequences.
*
Jace shook his head. "I don't care if I did just set myself on fire," he said. "I'm not hugging you."
Simon sighed and dropped his arms. "Your loss," he said. "If you'd gone in, I would've let you, but honestly it would've been a pity hug."
*
"Who's there?" he [Jace] called, then frowned. "Of course," he added, addressing the darkness all around, "even I, as a Shadowhunter, have seen enough movies to know that anyone who yells 'Who's there?' is going to be instantly killed."
*
"Don't look at me," said Jace. "My adoptive father was a mass murderer. And I still worried about what he thought. It's what we're programmed to do. Your dad always seemed pretty great by comparison."
"Sure, he likes you," said Alec. "You're heterosexual and have low expectations of father figures."
"I think they'll probably put that on my gravestone. 'He Was Heterosexual and Had Low Expectations.'"
*
"I did not make pie," Alec repeated, gesturing expressively with one hand, "for three reasons. One, because I do not have any pie ingredients. Two, because I don't actually know how to make pie."
He paused, clearly waiting.
Removing his sword and leaning it against the cave wall, Jace said warily, "And three?"
"Because I'm not your bitch," Alec said, clearly pleased with himself.
*
Black for hunting through the night
For death and mourning the colour's white
Gold for a bride in her wedding gown
And red to call enchantment down
White silk when our bodies burn,
Blue banners when the lost return.
Flame for the birth of a Nephilim,
And tow ash away our sins.
Gray for knowledge best untold,
Bone for those who don't grow old.
Saffron lights the victory march,
Green will mend our broken hearts.
Silver for demon towers,
And bronze to summon wicked powers.

*

[Sebastian] "I was going to kill someone today. I just wasn't sure who when I woke up this morning. I do love mornings. So full of possibilities."


*

Clary rolled her eyes and texted back. Jocelyn still got nervous when she thought Clary was out with Jace. Even though, as Clary pointed out, Jace was probably the safest boyfriend in the world since he was pretty much banned from (1) getting angry, (2) making sexual advances, and (3) doing anything that would produce an adrenaline rush.

*

"We shouldn't," protested Isabelle. "The Clave has a plan."
"The Clave has the collective intelligence of a pineapple," said Jace.
Alec blinked up at them. "Jace is right."
Isabelle turned on her brother. "What do you know? You weren't even paying attention."
"I was," Alec said, injured. "I said Jace was right."
"Yeah, but there's like a 90% chance of me being right most of the time, so that's not proof you were listening," said Jace. "That's just a good guess."

["br"]>["br"]>["br"]>["br"]>["br"]>["br"]>["br"]>["br"]>["br"]>["br"]>["br"]>["br"]>["br"]>["br"]>["br"]>["br"]>["br"]>["br"]>["br"]>["br"]>["br"]>["br"]>["br"]>["br"]>["br"]>["br"]>["br"]>["br"]>["br"]>["br"]>["br"]>["br"]>["br"]>["br"]>["br"]>["br"]>["br"]>["br"]>["br"]>["br"]>["br"]>["br"]>["br"]>["br"]>["br"]>["br"]>["br"]>["br"]>["br"]>["br"]>["br"]>["br"]>["br"]>["br"]>["br"]>["br"]>["br"]>["br"]>["br"]>["br"]>["br"]>["br"]>["br"]>["br"]>["br"]>["br"]>["br"]>["br"]>["br"]>["br"]>["br"]>["br"]>["br"]>["br"]>["br"]>["br"]>["br"]>["br"]>["br"]>["br"]>["br"]>["br"]>["br"]>["br"]>["br"]>["br"]>["br"]>["br"]>["br"]>["br"]>["br"]>["br"]>["br"]>["br"]>["br"]>["br"]>["br"]>["br"]>["br"]>["br"]>["br"]>["br"]>
Sign into Goodreads to see if any of your friends have read City of Heavenly Fire.
Sign In »
Reading Progress
September 19, 2014 – Shelved as:
to-read
September 19, 2014 – Shelved
November 9, 2014 –
Started Reading
November 9, 2014 –
page 100
13.79%
"Oh help. This book is so so freakishly huge. BOOKS THIS BIG TERRIFY ME. \n But still.\n Shadowhunters. *tackle hugs*"
November 10, 2014 –
page 427
58.9%
"Simon and Isabelle tho. They're adorable. They're the most adorable couple in the entire book. (Besides Magnus and Alec who aren't technically coupled at the moment.) SIMON AND ISABELLE."
November 11, 2014 –
Finished Reading
November 12, 2014 – Shelved as:
5-star
No comments have been added yet.