Cry, Tear-Jerker Romances
Romance books that made you Cry then feel good
1

The Fault in Our Stars




by




2

Kiss an Angel




by




3

Me Before You (Me Before You, #1)




by




4

Slammed (Slammed, #1)




by




5

Beautiful Disaster (Beautiful, #1)




by




6

Hopeless (Hopeless, #1)




by




7

The Edge of Never (The Edge of Never, #1)




by




8

The Sweet Gum Tree




by




9

Point of Retreat (Slammed, #2)




by




10

The Bronze Horseman (The Bronze Horseman, #1)




by




11

The Notebook (The Notebook, #1)




by




12

The Sea of Tranquility




by




13

Dream a Little Dream (Chicago Stars, #4)




by




14

Easy (Contours of the Heart, #1)




by




15

Annie's Song




by




16

Reason to Breathe (Breathing, #1)




by




17

On the Island (On the Island, #1)




by




18

Taking Chances (Taking Chances, #1)




by




19

Thoughtless (Thoughtless, #1)




by




20

Forbidden




by




21

The Unwanted Wife (Unwanted, #1)




by




22

Lover Awakened (Black Dagger Brotherhood, #3)




by




23

The Opportunist (Love Me with Lies, #1)




by




24

New Moon (The Twilight Saga, #2)




by




25

A Walk to Remember




by




26

Devil in Winter (Wallflowers, #3)




by




27

The Hunger Games (The Hunger Games, #1)




by




28

Outlander (Outlander, #1)




by




29

Fifty Shades of Grey (Fifty Shades, #1)




by




30

P.S. I Love You (P.S. I Love You, #1)




by




31

On Dublin Street (On Dublin Street, #1)




by




32

Morning Glory




by




33

The Time Traveler's Wife




by




34

Dear John




by




35

My Sister's Keeper




by




36

What Price Paradise




by




37

Lover Eternal (Black Dagger Brotherhood, #2)




by




38

Paradise (Second Opportunities, #1)




by




39

Wuthering Heights




by




40

Gone with the Wind




by




41

Tatiana and Alexander (The Bronze Horseman, #2)




by




42

Nobody's Baby But Mine (Chicago Stars, #3)




by




43

Looking for Alaska




by




44

Take This Regret (Take This Regret, #1)




by




45

Gabriel's Inferno (Gabriel's Inferno, #1)




by




46

Redeeming Love




by




47

The Summer Garden (The Bronze Horseman, #3)




by




48

Flowers from the Storm




by




49

Jane Eyre




by




50

Sarah's Child (Spencer-Nyle Co, #1)




by




51

Lover Mine (Black Dagger Brotherhood, #8)




by




52

Love Story (Love Story, #1)




by




53

A Kingdom of Dreams (Westmoreland, #1)




by




54

Again the Magic (Wallflowers, #0)




by




55

Sweet Lullaby




by




56

Honey Moon




by




57

This Heart of Mine (Chicago Stars, #5)




by




58

Seduce Me at Sunrise (The Hathaways, #2)




by




59

Gabriel's Rapture (Gabriel's Inferno, #2)




by




60

Flat-Out Love (Flat-Out Love, #1)




by




61

Delirium (Delirium, #1)




by




62

Dragonfly in Amber (Outlander, #2)




by




63

Cry No More




by




64

Wounded




by




65

Romeo and Juliet




by




66

Love Unscripted (Love, #1)




by




67

When He Was Wicked (Bridgertons, #6)




by




67

Heart Bones




by




69

Always to Remember




by




70

Making Faces




by




71

Breaking Dawn (The Twilight Saga, #4)




by




72

Collision Course




by




73

The Duke and I (Bridgertons, #1)




by




74

Pulled




by




75

Fallen Too Far (Rosemary Beach, #1; Too Far, #1)




by




76

Chasing Nikki (Chasing Nikki, #1)




by




77

Broken




by




78

Yours Until Dawn




by




79

Perfect (Second Opportunities, #2)




by




80

Fifty Shades Darker (Fifty Shades, #2)




by




81

A Virgin River Christmas (Virgin River, #4)




by




82

The Perks of Being a Wallflower




by




83

Charade (Games, #1)




by




84

Bully (Fall Away, #1)




by




85

Something Wonderful (Sequels, #2)




by




86

City of Glass (The Mortal Instruments, #3)




by




87

Almost Heaven (Sequels, #3)




by




88

When It Rains (Rains, #1)




by




89

The Last Song




by




90

Voyager (Outlander, #3)




by




91

The Reluctant Dom (Suncoast Society, #4)




by




92

Wild Man (Dream Man, #2)




by




93

Effortless (Thoughtless, #2)




by




94

Pride and Prejudice




by




95

Parting Gifts




by




96

Reflected in You (Crossfire, #2)




by




97

Shelter Mountain (Virgin River, #2)




by




98

Ugly Love




by




99

I Love You to Death (I Love You, #1)




by




100

Rainwater




by



797 books · 1,333 voters · list created February 26th, 2011 by deleted user.
date
newest »
back to top
Related News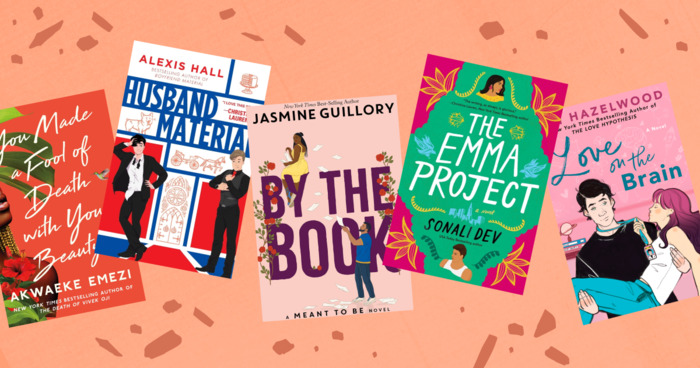 Shall I compare thee to a summer's day? Thou art more lovely and more temperate: Rough winds do shake the darling buds of May, And summer's...
Anyone can add books to this list.