Favorite Silhouette
Favorite Silhouette
1

The Desert King (Throne of Judar #3)




by




2

To Tame a Sheikh (Pride Of Zohayd #1)




by




3

To Tempt a Sheikh (Pride Of Zohayd, #2)




by




4

Complicated Moonlight (DCYE, #2)




by




5

Don't Close Your Eyes (DCYE, #1)




by




6

The Once And Future Prince (Castaldini Crown, #1)




by




7

The Illegitimate King (Castaldini Crown #3)




by




8

The Desert Lord's Bride (Throne of Judar, #2)




by




9

To Touch a Sheikh (Pride of Zohayd, #3)




by




10

Mackenzie's Mountain (Mackenzie Family, #1)




by




11

The Prodigal Prince's Seduction (Castaldini Crown, #2)




by




12

The Sarantos Secret Baby (Sarantos Brothers, #1)




by




13

The Desert Lord's Baby (Throne of Judar #1)




by




14

Beautiful Stranger (The Last Roundup, #4)




by




15

Desert Prince, Expectant Mother




by




16

The Sheikh Surgeon's Proposal




by




17

A Secret Birthright




by




18

Mad Love (DCYE #3)




by




19

The Desert Surgeons Secret Son




by




20

A Baby for Emily




by




21

Taming The Beast (Wife Inc., #3)




by




22

Get Lucky (Tall, Dark & Dangerous, #9)




by




23

Take Me




by




24

A Game of Chance (Mackenzie Family, #4)




by




25

The Billionaire Next Door




by




25

Rio Grande Wedding




by




27

The Healer (Deep in the Heart #2)




by




28

A Whole Lot of Love




by




28

Left At The Altar (Holt #2)




by




30

Considering Kate (The Stanislaskis, #6)




by




31

Beloved (Long, Tall Texans, #16)




by




32

Irish Thoroughbred (Irish Trilogy, #1)




by




33

Kids Is a 4-Letter Word




by




34

Mackenzie's Mission (Mackenzie Family, #2)




by




35

Wife, Mother... Lover?




by




36

The Heart of Devin MacKade (The MacKade Brothers, #3)




by




37

Shelter in a Soldier's Arms




by




37

The MacGregors: Serena & Caine (MacGregors #4 & 5)




by




39

Prince Joe (Tall, Dark & Dangerous, #1)




by




40

The MacGregors: Alan & Grant (MacGregors #6 & 7)




by




41

The MacGregor Brides (The MacGregors, #7)




by




42

Irish Rebel (Irish Hearts, #3)




by




43

Frisco's Kid (Tall, Dark & Dangerous #3)




by




44

Baby & the Beast




by




45

Remember My Touch




by




46

The Nanny's Secret




by




47

Her Ideal Man (The Last Roundup, #3)




by




48

Gabe (Buckhorn Brothers, #3)




by




49

Marriage Material (The Last Roundup, #1)




by




49

Night Shield (Night Tales, #5)




by




51

The Return of Rafe MacKade (The MacKade Brothers, #1)




by




52

Breaking The Rules




by




53

The Doctor's Deadly Affair




by




54

First Comes Love (Marigold, Indiana #1)




by




55

Desert Warrior




by




56

The Morning Side of Dawn (Holt, #3)




by




57

Night Tales (Night Tales #1-4)




by




57

It Came Upon a Midnight Clear (Tall, Dark & Dangerous #6)




by




57

Miss Emmaline and the Archangel (Conard County, #3)




by




60

Craving Beauty




by




60

The Horseman's Bride (Heartbreak Canyon, #2)




by




62

The MacGregor Grooms (The MacGregors, #9)




by




63

Rawhide and Lace




by




64

The Winning Hand (The MacGregors, #8)




by




65

Fire and Rain (MacKenzie-Blackthorn #2)




by




66

The Fall of Shane MacKade (The MacKade Brothers, #4)




by




67

Man of Ice (Bighorn, Wyoming #2)




by




68

Just a Cowboy (Conard County & Conard County: The Next Generation #26; Conard County: The Next Generation #9)




by




69

Forever Blue (Tall, Dark & Dangerous #2)




by




70

Special Gifts




by




71

Warrior (MacKenzie-Blackthorn #5)




by




72

What The Baby Knew




by




73

Awaken to Pleasure




by




74

Her Secret, His Child




by




75

The Forbidden Ferrara (Ferrara #2)




by




76

Once upon a Wedding (Romantic Traditions) (Silhouette Intimate Moments, No 524)




by




77

The Mercenary (T-FLAC, #1)




by




78

Second Father




by




78

Taylor's Temptation (Tall, Dark & Dangerous, #10)




by




80

The Last Mercenary (Soldiers of Fortune, #6)




by




80

Kansas City Christmas (The Precinct: Brotherhood of the Badge #4; The Precinct #10)




by




82

Harvard's Education (Tall, Dark & Dangerous, #5)




by




82

Flashback




by




84

Five Kids, One Christmas




by




85

Enamored




by




86

Who's the Boss?




by




87

Suspect Lover (Silhouette Intimate Moments, #1554)




by




87

Brandon's Bride (Maximillian's Children, #3)




by




87

The Ice Cream Man




by




90

Maggie's Man (Maximillian's Children, #1)




by




91

Daddy By Accident




by




91

Alissa's Miracle




by




93

Cinderella Bride




by




93

Hidden Star (Stars of Mithra #1)




by




93

Night Watch (Tall, Dark & Dangerous, #11)




by




93

The Quiet One (Guiness Gang #3)




by




97

Captive Star (Stars of Mithra #2)




by




98

Cordina's Royal Family (Cordina #1-3)




by




98

A Prince of a Guy (Red-Hot Royals, #1)




by




98

Suspicious Minds




by



385 books · 93 voters · list created February 24th, 2011 by deleted user.
date
newest »
back to top
Related News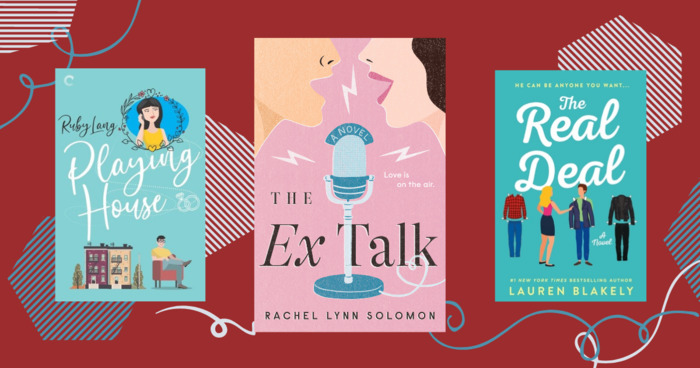 Rachel Lynn Solomon is best known to her fans for writing heartfelt contemporary YA novels like 2020's Today Tonight Tomorrow and her 2018...
Anyone can add books to this list.