Romance Novels with Luck in the Title
1

Get Lucky




by




2

The Vintner's Luck (Vintner's Luck, #1)




by




3

The Luckiest Lady in London (The London Trilogy, #1)




by




4

Lady Luck (Colorado Mountain, #3)




by




5

Blind Luck Bride




by




6

Luck of the Irish




by




6

Hudson's Luck (Forever Wilde #4)




by




6

A Kiss for Luck (Sweetest Kisses, #0.6)




by




9

The Lucky One




by




9

Stay Lucky




by




11

Luck of the Wolf (Historical Werewolf, #7)




by




11

Lucky Bear (Silverbacks and Second Chances #2)




by




13

Lucky Devil (Dangerous Male #2)




by




13

Lucky In Loveland (Welcome to Loveland, #1)




by




15

A Stroke Of Luck (Intrepid Heroines, #3)




by




15

Lucky (Twirled World Ink #4)




by




17

Lucky Break (Lucky, #3)




by




18

Lucky in Love




by




18

Getting Lucky Number Seven (Taking Shots #1)




by




20

Marry Me Kate (Lucky Charm Sisters #1)




by




20

Luck, Love & Lemon Pie




by




22

Her Lucky Love (Holiday, Montana, #4)




by




22

Getting Lucky with the Rock Star (Holiday Encounters #3)




by




24

Who Needs Cupid?: The Max Factor/A Valentine for Rebecca/Lucky in Love




by




24

Shift Out of Luck (Bear Bites, #1)




by




26

Luck and a Prayer




by




27

Second Time Lucky




by




28

Getting Lucky (Lucky, #3)




by




29

One Lucky Cowboy (Lucky, #2)




by




30

Lucky 13 (Deadlines & Diamonds, #4)




by




31

Lucky Penny (Smytheshire Massachusetts, #3; You're Invited, #5)




by




32

Beginner's Luck (Man of the Month #9)




by




33

Texas! Lucky (Texas! Tyler Family Saga, #1)




by




34

One Lucky Night




by




35

Get Lucky (The Bounty Hunters, #2)




by




36

Getting Lucky




by




37

The Lucky Charm (Portland Pioneers, #1)




by




38

Getting Lucky with Luciano




by




39

Luck Be a Lady (West Investigations, #2)




by




40

Lucky Stars




by




41

Just My Luck (Shamrock Falls, #3)




by




42

The Lawyer's Luck (Home to Milford College, #0.5)




by




43

Nothing But Luck (Nothing But...)




by




44

Lucky Stars (Ghosts and Reincarnation #5)




by




45

The Night She Got Lucky (Dog Walkers, #2)




by




46

With a Little Luck




by




47

Lucky Like Us (The Hunted, #2)




by




48

One Lucky Vampire (Argeneau, #19)




by




49

Lucky in Love (Lucky Harbor, #4)




by




50

Just My Luck (Escape to New Zealand, #5)




by




51

As Luck Would Have It (Providence, #1)




by




52

Lucky Enough (Whisper Hollow, #1)




by




53

Lucky's Charms




by




54

Leonie's Luck




by




55

Getting Lucky (Marine, #2)




by




56

The Bad Luck Wedding Dress (Bad Luck Wedding, #1)




by




57

Merchanter's Luck (The Company Wars, #2)




by




58

Lucky's Lady (Doucet, #2)




by




59

McKettrick's Luck (McKettricks, #6)




by




60

Just My Luck (Coletti Warlords, #1)




by




61

A Texan's Luck (Wife Lottery, #3)




by




62

Getting Lucky (Sisters of Silverwood, #1)




by




63

Get Lucky (Tall, Dark & Dangerous, #9)




by



Like
Lists are re-scored approximately every 5 minutes.
People Who Voted On This List (4)
No comments have been added yet.
Related News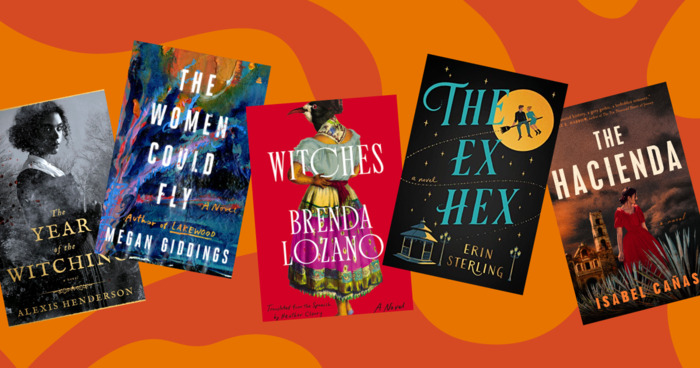 In the world of books, witches have been enjoying something of a moment lately. Stories about witches go waaaay back, of course. But in the...
Anyone can add books to this list.