Paranormal Romance with Love in the Title
Paranormal, Science Fiction, and Fantasy Romance
1

Accidentally in Love with...a God? (Accidentally Yours, #1)




by




2

The Dragon Who Loved Me (Dragon Kin, #5)




by




3

Samson's Lovely Mortal (Scanguards Vampires, #1)




by




4

Grizzly Love (Kodiak Point, #5)




by




5

Outfoxed by Love (Kodiak Point, #2)




by




6

Beloved Warrior




by




6

Paradox Love




by




8

Lovescape




by




9

Awaken, My Love




by




10

Love Me Tender




by




11

Sweeter Savage Love (Creole Historical, #2)




by




12

Love Bites (Argeneau #2)




by




13

Love's Sweet Assassin (Love, Heart & Soul, #4)




by




14

Love's Bewitching Thief (Love, Heart & Soul, #6)




by




15

The Love Potion (Cajun, #1)




by




16

The Mammoth Book of Vampire Romance 2: Love Bites




by




17

Love's Beguiling Healer (Love, Heart & Soul, #11)




by




18

Love's Winsome Warrior (Love, Heart & Soul, #14)




by




19

Love Bites (Night Fall, #2)




by




20

Eat Prey Love (Love at Stake, #9)




by




21

Love in the Time of Dragons (Light Dragons #1)




by




22

Must Love Dragons (Immortally Sexy, #2)




by




23

Love, Heart And Soul Moments (Love, Heart & Soul, #17)




by




24

Last Chance for Love (Kegin #1)




by




25

Werewolf Love Story (Entwined, #1)




by




26

Beloved Traveler (Gaian Stories #3)




by




27

Beloved Enemy (Gaian Stories #2)




by




28

Must Love Fangs (Midnight Liaisons, #3)




by




29

For the Love of a Goblin Warrior (Shadowlands, #3)




by




30

For the Love of a God (Greek God, #1)




by




31

Love Nip (Emily Sullivan, #2)




by




32

Love's Captive (Volarn, #1)




by




33

The Droid Who Loved Me




by




34

For the Love of Tia (Dragon Lords of Valdier, #4.1)




by




35

To Love a Highland Dragon (Dragon Lore, #2)




by




36

A Love Worth Biting For (Hart Clan Hybrids, #1)




by




37

A Love Worth Biting For (Hart Clan Hybrids, #1)




by




38

Demon Lover (Fairytale Fantasies #2)




by




39

Love in a Bottle




by




40

Loved By a Werewolf (Big City Pack Series - Oh, Canada!, #5)




by




41

The Wolf Who Loved Her




by




42

Love Potions (Warlocks MacGregor, #1)




by




43

Love at Stake (Fated Match, #1)




by




44

The Vampire Who Loved Me (Cabot, #2)




by




45

Love's a Witch (Hart Clan Hybrids, #2)




by




46

Love Bites




by




47

To Love a London Ghost




by




48

The Vampire Who Loved Me (Sons of Midnight #2)




by




49

Must Love Vampires




by




50

Love You to Death (The Mediator, #1)




by




51

Must Love Lycans (Broken Heart, #8)




by




52

The Wolf Who Loved Me (Westfield Wolves, #5)




by




53

Love Under A Faery Blue Moon (Once In A Blue Moon Series)




by




54

The Bear Who Loved Me (Shifters, Inc., #4)




by




55

Love at First Roar (Grayslake, #4)




by




56

Must Love Ghosts (Must Love Ghosts, #1)




by




57

To Love a King (Court of Annwyn, #3)




by




58

Stone Cold Lover (Gargoyles, #2)




by




59

White Tiger Lover




by




60

Love Defined




by




61

Lover's Purr




by




62

Hunting Love




by




63

Love, Eternally (Roman Time Travel, #1)




by



Like
Lists are re-scored approximately every 5 minutes.
People Who Voted On This List (7)
No comments have been added yet.
Related News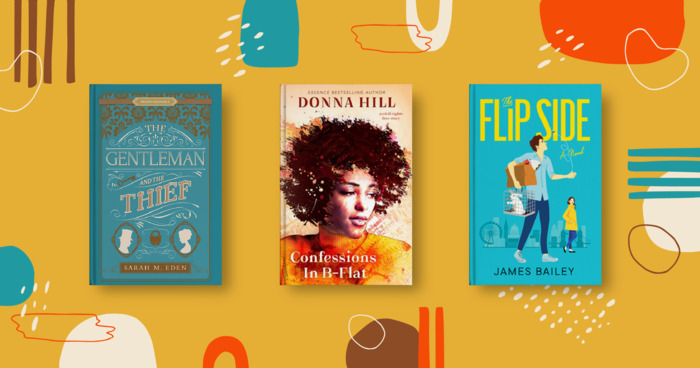 Some people love books. Some people fall in love. And some people fall in love with books about falling in love. Every month our team sorts...
Anyone can add books to this list.